5 Upgrades to Make to Your Office Building This Year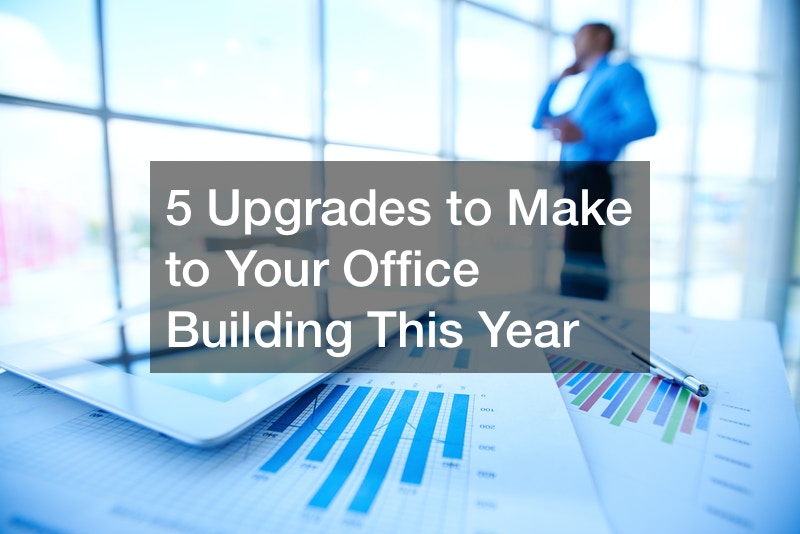 Office buildings are a critical part of any organization, and their success or failure is often directly related to the performance and morale of the people who work there. It seems we are learning new ways to revolutionize office building designs every day, so it can be hard to know what you should focus on when designing your next space or renovating an existing space. Here are five upgrades you may want to consider this year.
1. Incorporating Plug-And-Play Furniture
Employees do not want to waste time assembling new desks when they move into a new office space or deal with bulky furniture that gets in the way of working collaboratively with others. With this in mind, many organizations are now incorporating furniture built for quick and easy installation. For example, plug-and-play frame furniture can easily be moved around the office like giant Legos connecting tables, chairs, and storage with a simple cord or handle. Another benefit is that it can be removed just as easily, allowing your company to reconfigure workspaces with ease.
Desking systems have become very popular due to their ability to offer a higher degree of personalization and customization. While many organizations purchase these systems from the same vendors, they often get stuck with pre-configured system components that do not create a unique workspace for every employee. As a result, companies are now taking matters into their own hands by configuring customized desking systems onsite. Employees can choose from various options that best meet their individual needs. This process benefits the company by eliminating excess inventory, reducing shipping costs, and ensuring that each piece of furniture is exactly what the employees want.
One of the problems with traditional desking systems is that they tend to be quite bulky and take up a lot of valuable space in an office. Today's organizations recognize this issue and seek ways to solve it, like configuring mobile desks or using collaborative workstations. There are many options today that were less common several years ago, such as sit-stand workstations.
Hot desking is also becoming more popular in office building design. With this approach, employees check in and out of the workplace using a sophisticated electronic system that provides them access to desks when needed. This process can benefit your company by allowing you to accommodate more workers in the office and make better use of your space when they are not.
Smart furniture is another way organizations are revolutionizing their workspace design, and it is happening in three significant areas, seating, storage/filing cabinets, and lighting. Employees want comfortable seating options to efficiently situate themselves within collaborative workspaces or around informal meeting areas. By making smart choices regarding chair features like height adjustable arms, seat depth, and lumbar support, your company will give employees the freedom to create a more effective and productive workspace and decrease their risk of developing back or neck injuries.
2. Incorporating Mobile Technology
Bring your device (BYOD) is no longer just an option in most offices. It is fast becoming the only way companies operate successfully in today's mobile world. With smartphones, tablets, laptops, and other devices playing an increasingly important role in employee productivity, these technologies must be supported throughout the workplace. Companies are looking for ways to integrate mobile technology into the office design process by offering shared workspaces with wireless charging capabilities or installing activity-based workspaces that offer shared applications by allowing employees to work anywhere at any time without carrying around bulky equipment.
Organizations looking for ways to improve collaboration and enable creativity are turning to co-creation programs that encourage employees to contribute their ideas regarding their workspace design. These programs can include online sites where suggestions can be posted or in-person meetings where group brainstorms take place and build a workplace that genuinely reflects what workers need and want.
This process benefits your company by increasing employee satisfaction and productivity while decreasing turnover rates, which is no small feat when considering how influential these factors can be on an organization's bottom line.
For many organizations, personalization represents the future of office design, and it is happening in three areas, seating options, storage filing cabinets, and lighting. Personalized workspaces offer employees the ability to outfit their space in a way that best reflects their individual needs and preferences, helping them feel more comfortable when they are at work.
Many companies are setting up mobile offices to customize their space with moveable furniture that includes power outlets and USB connections, allowing them to bring all of their technology needs together in one place. Besides increasing employee efficiency, these personalized workspaces help organizations save money, as employees do not have to purchase large numbers of expensive electronic devices and furniture pieces for themselves.
3. Flooring
Another way that companies are revolutionizing their workspace design is by making cosmetic improvements like painting spaces with bright, vibrant colors and adding decorative features like plants and roof repair. These types of updates are majorly offered by commercial flooring services companies and create a more engaging work environment for employees, increasing their sense of pride in the organization they work for. Organizations looking to modernize their office space are also turning to floor solutions like carpet tiles, which offer endless design possibilities while allowing you to save money on installation costs. Companies should look into environmentally-friendly options for this type of improvement since workers want to spend time in comfortable, attractive spaces that minimize their environmental impact.
When it comes to their physical workplace, there is no question that organizations have many choices when determining how they want to upgrade their office space. Flooring is just one of these options, but it can affect employees in many positive ways. With this type of improvement, not only can companies create an aesthetically-pleasing environment that stimulates creativity and increases productivity, but they can also increase wellness in the workplace by minimizing dust and dirt particles floating around throughout the day.
By taking advantage of flooring solutions like carpet tiles, companies can improve their office space look and feel while decreasing workers' exposure to potentially harmful contaminants. Over time, this can significantly reduce workers' absences and boost their overall satisfaction with the organization they work for.
Carpet tiles are made up of several smaller carpet pieces that can be interlocked to cover any area. Because these tiles are manufactured with permanently connected edges, they offer the ability to install flooring in a room without worrying about how to transition between different surfaces or leave an expansion gap.
Carpet tiles come in various colors and patterns, and they can even be used to create custom floor designs that perfectly fit your space. Once you decide on the perfect color and pattern for your room, installation is pretty quick and easy, as it only requires the use of essential tools like a utility knife, straight edge, and carpet cutter.
Vinyl flooring is a cost-effective and durable material that can create attractive floor designs in any office space. The material consists of high-density polyvinyl chloride and other compounds mixed with various types of colorants then heated under pressure to reach the desired thickness. This manufacturing process produces a flooring product that can be installed in any room, even bathrooms and other areas of your office space where moisture is an issue. A luxury vinyl flooring contractor can do the installation. Vinyl flooring will not absorb water or humidity, which makes it ideal for high-moisture areas like kitchens.
When compared to hardwood floors, laminate flooring is more affordable and much easier to install. This type of flooring is less expensive than hardwood because it is manufactured by fusing layers of material to form a finished product that looks like natural wood, stone, or ceramic tile. The look and feel of laminate flooring make it an attractive option for any space, and it can be installed in most rooms of your office space with ease.
4. Choosing Energy-Efficient Technologies
Organizations are looking for ways to use sustainable transportation options for employees. Some companies provide incentives that encourage workers to walk, take public transit or ride their bikes during the workday. Other employers are providing electric vehicle charging stations or offering access to carshare programs.
When choosing interior finishes, you should keep both energy efficiency and sustainability in mind; these can be achieved by using sustainable products like recycled wood, bamboo flooring, paints with low volatile organic compounds, carpets made of post-consumer recycled content, glass countertops made from recycled content, as well as incorporating motion sensors throughout the office space so lights only.
An HVAC system is essential to keep your employees comfortable and plays a vital role in sustainable development. Whether you are looking for cooling systems or energy-saving heating options, there are so many different ways that responsive air technology can adapt to the changing needs of workers throughout any given day. This helps companies save money by not constantly adjusting the temperature during every workday but still providing their employees with enough warm or cool air when necessary.
Furnace repairs are usually not covered under regular HVAC contracting agreements, so you will want to find HVAC companies that offer emergency furnace repairs. This will help you ensure that your heating system is always working at peak performance when coldest outside.
5. Lighting and Heating System
There is a reason why the term well-lit exists. Electrical companies ensure Proper lighting, which is important because it can affect how people feel about their working space and their energy levels throughout the day. Consider using dimmable LED lights for general spaces so you can adjust lighting levels according to each employee's needs.
Natural light not only provides warmth and connection for employees but also contributes positively to their moods. To capitalize on this trend, companies are looking at ways of making the most of natural light by incorporating large windows into spaces wherever possible.
If they are incorporated, skylights should be used in moderation because too much bright sunlight can cause more harm than good, depending on where employees are working. Instead of adding skylights, you may want to consider utilizing room-darkening shades throughout the day. Hence, workers have sufficient daylight when they need it and protection from direct sunlight when they do not.
Air conditioning or HVAC service is essential to keep your employees comfortable and vital in sustainable development. Whether you are looking for cooling systems or energy-saving heating options, there are so many different ways that responsive air technology can adapt to the changing needs of workers throughout any given day. This helps companies save money by not constantly adjusting the temperature during every workday but still providing their employees with just enough warm or cool air when necessary.
Temperature control is essential for ensuring that employees can work comfortably and productively throughout any given day. When air conditioning units are out of service, some buildings may even experience damage because they were not properly climate-controlled during extreme temperatures. This is why it is so important to have a service agreement covering all aspects of HVAC maintenance and not just the parts that wear out over time.
An important step that all companies can take to create a sustainable office space is installing bike racks and encouraging employees to ride their bikes during the workday. Plus, it is fun. Bike riders enjoy the exercise while saving money on gas and avoiding traffic or crowded public transportation options.
In conclusion, office upgrades can have a tremendous impact on the overall well-being of your employees and their attitude towards work. The thrive trend is focused on creating a dynamic space that offers a sense of community among staff members while also using sustainable initiatives to reduce energy consumption and promote healthy lifestyles amongst workers. You can even utilize your Hiscox business insurance. By making small changes throughout your office, you can create a more productive and energetic work environment. Remember that green cleaning products have no harmful chemicals and are better for your health and the environment. Companies should consider using green cleaning products that are both biodegradable and phosphate-free.