British University Professor Creates World's First 3D Printed Bouquet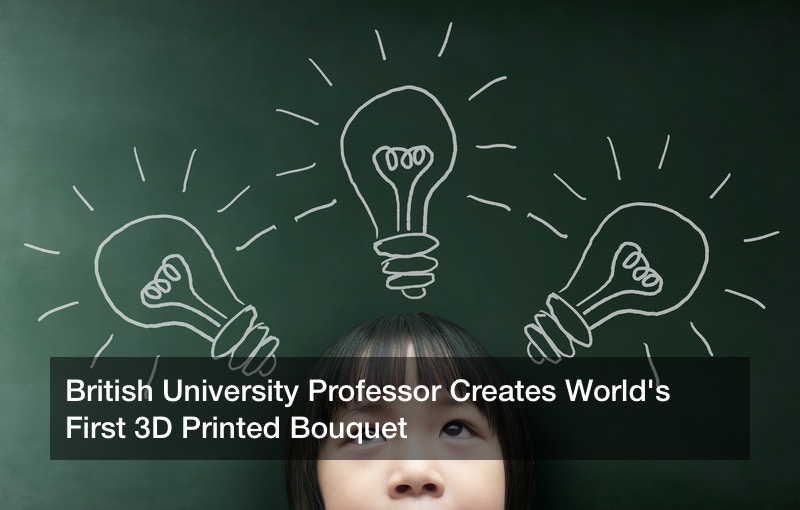 UPDATED 11/6/20
While every wedding is a unique occasion, there are a few details that supersede culture, tradition and even the individuals themselves. Wedding flowers are one example of this, as millions of brides, grooms and their families spend hours debating flower arrangement ideas every year. But could this common feature be replaced by something slightly more innovative? One British professor thinks so. Dr. Guy Bingham of Loughborough University recently designed and produced the world's first 3D-printed wedding bouquet for a colleague's wedding.
Now a Senior Lecturer in Product and Industrial Design at Loughborough University, Bingham says he has known Dr. Candice Majewski for years; the two even lived together while they worked as research associates at the Wolfson School of Mechanical and Manufacturing Engineering. However, when Bingham realized he would be unable to attend his old friend's marriage to Bret Hughes in Indianapolis, he decided he would get involved in some other way. As Majewski is a mechanical engineering lecturer at the University of Sheffield who has spent years working in Additive Manufacturing (AM) research, designing a 3D printed bouquet seemed like a natural choice to both.
Noting that his friend wanted a "dainty and elegant" floral arrangement, Bingham designed a bouquet featuring nine nylon plastic roses, which incorporates the movement of a real spray of flowers. The project, which used a laser sintering system, took 40 hours to create and 18 hours to print.
The flower arrangement Bingham created is believed to be the first 3D printed bouquet the world has ever seen, and joins a growing trend of paper flowers and other synthetic blooms at weddings. However, some still say that nothing can replace the experience of real flowers at this important event.
"While a 3D printed bouquet certainly is unique, the printing is still not at a point that can replicate the texture, color and smell of real flowers," said Donna from Essex Florists "When it gets to that point, I'll have to find a new profession — or get a 3D printer."
Bingham earned his Ph.D in AM textile structure design and modelling in 2007 and joined the Loughborough Design School as a lecturer in 2010. He has since created a variety of items using AM techniques, including footwear, personal protective equipment, the world's first conformal AM textile dress, and a personalized Taekwondo torso protector.
Weddings involve a lot of time and energy and many plans, but choosing the DIY flower bouquet will take up a lot of time. Wedding flowers seem to have the most significant impact on wedding participants, one of which is the wedding dress.
Those who attend weddings regularly will find that almost every wedding contains the 100 most beautiful flowers in the world, so when planning your wedding, make sure to include some plans around your floral wedding selection. People usually choose 10 dollar flowers that do not combine, such as red and lemon green. Not everyone is doing this, but it seems to happen often and is popular at weddings.

There seem to be many wedding flower choices, and many people seem to find themselves changing their minds. This is why it is recommended that you spend more time thinking about which wedding flowers should be used, arranged, placed, and any other tiny details that become a huge detail within a few minutes. Trying to determine which 10 dollar flowers will be right, but what will happen can be frustrating. The florist should provide a flower arrangement design, whether it is drawn from a previous arrangement design, a photo taken, or an example made as an example. By visualizing 10 uses of flowers, the whole decision becomes easier.
Wedding flowers are an important part of every wedding, and each wedding has its design and layout. Each wedding is different, which means that different wedding flowers will be used and arranged. There are many options available so that anyone planning a wedding can decide what matches the wedding. Choosing 10 types of flowers will take some time, but everything is possible with a florist's help.
Related: country baskets loughborough, florist loughborough, flower delivery loughborough uk, loughborough florist delivery, madeline's flowers loughborough, madeline's gifts.