DOJ Arrests Race Car Driver Scott Tucker and Lawyer for Payday Loan Scam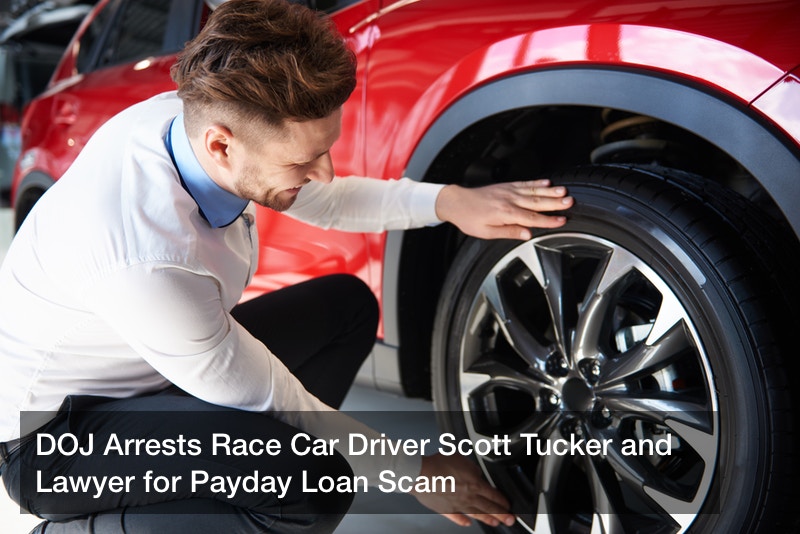 UPDATED 12/10/20
A race car driver and his lawyer have been indicted on charges related to a payday loan scam that evaded state laws in order to drastically increase interest rates.
Payday loans are generally a small monetary loan given to a consumer who is strapped for cash. The agreement between the lender and the recipient guarantees that the loan will be paid back in full after the recipient receives their next paycheck.
While the cost of living has risen consistently over the past 12 years, income growth has plateaued. This has left many families with less money and more living costs. Taking out cash loans seems a viable option for many of them, and while there are a variety of legal methods for obtaining fast cash loans, there are also strict rules forbidding predatory lending as well.
According to Forbes, Scott Tucker and his attorney Timothy Muir are facing charges of violating the Racketeer Influenced and Corrupt Organizations Act ("RICO") and the Truth in Lending Act ("TILA") after they allegedly charged illegal interest rates of up to 700%.
The duo were running a nationwide payday loan scheme, dubbed AMG Services. According to The Consumerist, Tucker and Muir claimed the business (worth $2 billion) was owned and operated by Native American tribes, meaning it didn't fall under federal jurisdiction. However, according to U.S. Attorney Preet Bharara, the FBI and IRS found, "this deceptive and predatory scheme to take advantage of the most financially vulnerable in our communities has been exposed for what it is — a criminal scheme."
In a statement released by the Department of Justice, Bharara said the two "targeted and exploited millions of struggling, everyday people by charging illegally high interest rates – as much as 700 percent."
The business went by a slew of aliases, including: Ameriloan, Cash Advance, One Click Cash, Preferred Cash Loans, United Cash Loans, US FastCash, 500 FastCash, Advantage Cash Services, and Star Cash Processing.
According to the indictment, Tucker issued loans to 4.5 million people and many of those loans came with interest rates ranging from 400%-500%, though consumers weren't openly alerted to these rates beforehand.
The Department of Justice concluded that the businessmen forged superficial connections with multiple Native American tribes in an attempt to shield their practices from state laws that prohibit such interest rates.
The company allegedly went as far as providing fake loan applications in an attempt to prove they had supplied loans to borrowers. In fact, these loans weren't authorized by the alleged borrowers and resulted in harassment and the selling of the loans to collection agencies who would then go after the borrower.
After arrest, Scott Tucker was released on $2 million bail. Having a criminal defense attorney who is familiar with the bailing process is an important first step to eventually securing freedom. Knowing who sets bail conditions and being able to find conditions that are favorable to the client is a role for an attorney.andnbsp; For a wealthy defendant like Tucker, flight risk is taken into consideration in the bailing process.
Of course for someone like Scott Tucker, who is worth millions of dollars, securing jail bail money is a relatively straightforward event. Once Tucker appears for his scheduled court date the money will be returned to him. Meanwhile, he gets to prepare for his court date from the comfort of his own home. For most people, however, coming up with $2million is a near impossibility. In those cases, the services of a bail bond agent would be needed.
A bail bond agent fronts the jail bail money needed to secure release in exchange for a percentage, usually 10-20%. So with a bail amount like Tucker's, most people would need to come up with $200,000-400,000 for their bail bondsman, the bail bond agent would put up the rest of the money. Being released on bond would also commit the bail bond agent to make sure the defendant appears in court on their scheduled date.
The future is unpredictable, and it comes when a person requires a huge amount of money. Raising such an amount might be challenging even with the help of friends.
However, the availability of multiple loan lenders has made it easy for people to meet their financial goals. If an individual faces a bail or bond to pay, they can get a personal loan to pay the courts. Applying for loan is an easy process since the lenders would guide the applicant on how to go about it.
Once the loan has been approved, the applicant will have the finances to sort out the issue. If a person wanted a $2000 loan today, they could easily get it from lending institutions. All they need to do is search for a good loan company, and they would be able to get their finances. Thanks to the internet, getting a loan might not require a person to go to the company's premises. If the loan is urgent, one can get a personal loan online and sort the issue as soon as possible. A loan definition is complex, and individuals need to be careful to avoid being scammed. It is important to get a loan from an authentic lender.
Lawyers Are Here to Help
Being a lawyer is a stressful occupation, but there is enormous room for growth in any law firm. If an attorney knows 5 sentences about lawyer, they know that they are there to help the public. There are more than, say, 5 things lawyers do that can help people, and it's important that clients know to ask them for help when there is a major legal problem. There are also lawyers who simply handle your affairs for you, and they're always there to help you.
The best lawyers in American history are often said to include some of the founding fathers. They had a strong legal background, and the question of how long does it take become a lawyer was a very different answer at that time. There weren't many criminal defense lawyer jobs at the time, but often, there were fewer legal problems for people. Lawyers who know how to become a labor lawyer have always been there to help working-class people when they had problems on the job. Today, there are more labor protections than ever before, and people don't need lawyers as often for their legal disputes. Unions have come in to take care of a lot of the legal issues.
More Topics:
3b payday loans, ameriloan lawsuit, tucker loan, 500 fast cash scams, ameriloan locations, ameriloan payday, ameriloan shut down, ameriloan united cash loans, amg payday loans, amg services in overland park ks, amg services kansas.