Gordon Ramsay's Bizarre Hair Sparks Hair Transplant Rumors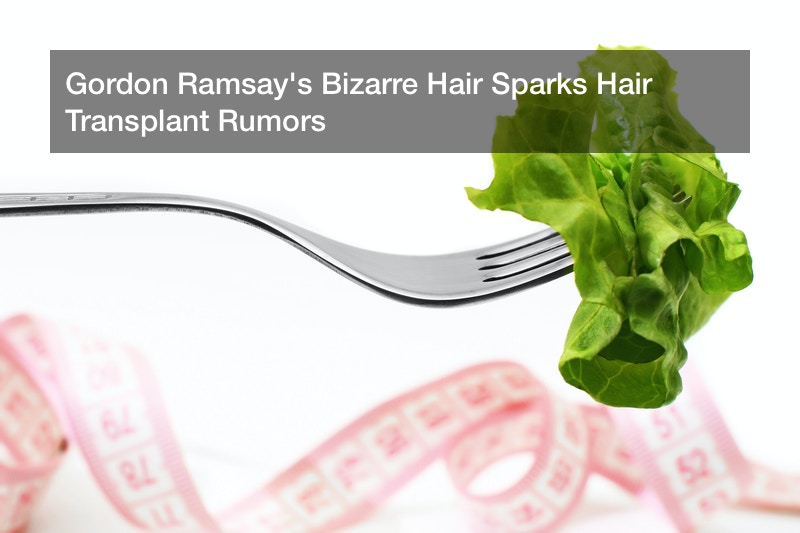 UPDATED 10/22/20
Master Chef and Kitchen Nightmares star Gordon Ramsay debuted quite the hairstyle at Victoria Beckham's 40th birthday. Ramsay wore his hair conspicuously long in the front, with the ends nearly covering his eyes. The back of the infamous cut was choppy, uneven, and shaven in some parts, and the skin on Ramsay's scalp and forehead burned bright red. Ramsay's markedly bizarre appearance has many speculating that the star may be trying to hide recent hair transplants.
"The back of Ramsay's head was tightly shaved and appeared to be covered with a dye product,"andnbsp;The Independentandnbsp;reported. "There were also red pin pricks visible on the nape of his neck, which experts claim is a key sign to having the surgery." This is not the first time the media reported suspicions that the all-star chef, 47, may have had work done on his scalp. "Back in early 2011, rumors swirled that he had received a hair transplant after being seen with a surgical cap and puffy face," E! Online explains.
At the time, Ramsay attributed the blatant swelling to an allergic reaction.
Hair transplants or Follicular Unit Extraction (FUE) surgery normally requires patients to shave at least part of their heads. Experts suggest that Ramsay's combed-over bangs and his uneven hairline may be attempts to hide the recent, alleged surgery. "The line between his shaved hair and his longer growth isn't blended,andnbsp;which will further raise suspicions,"andnbsp;The Daily Mailandnbsp;continues. The celebrity chef normally styles his hair in a shorter, spiked up hairdo.
"A lot of guys just choose to shave their head and grow out facial hair," explains Rick Van De Riet, Owner ofandnbsp;Namaste Salons. "The technology for hair transplants has evolved to individual follicles. There are plenty of options for men losing their hair nowadays. There are also products like Propecia and Minoxidil, which will help a portion of lost hair to come back."
The cost of a hair transplant will vary from place to place. When people consider these associated expenses, they should think about the amount of hair on head. Some people obviously have more hair than others. The amount of hair that a person has will depend on several factors, including a person's head size and age. However, on average, people have around one hundred thousand hairs on their heads. A hair transplant will always involve a lot of hair, even if it doesn't look like it. Otherwise, it really won't make enough of a difference.
American hair shampoo can already help a lot of people improve the appearance of their hair. They might not need to have it modified significantly. Learning more about hair in general can help the people who are interested in at home hair. For instance, people often ask the following question: are hair follicles dead? The hair follicles that are dead have stopped producing hair, and this is certainly not the normal state for all hair follicles. There are plenty of other misconceptions about hair, and these can prevent people from properly caring for their own hair. There are plenty of hair care strategies that are relatively simple and effective.
More Topics: a day in the life of gordon ramsay, chef ramsay website, cook ramsay, george ramsay chef, gord9n ramsay, gordon ramsay accident, gordon ramsay best restaurant competition, gordon ramsay brother drugs, gordon ramsay customer relations, gordon ramsay facebook, gordon ramsay first tv appearance.