Healthcare's Move Towards Cloud Computing and What Will Come With It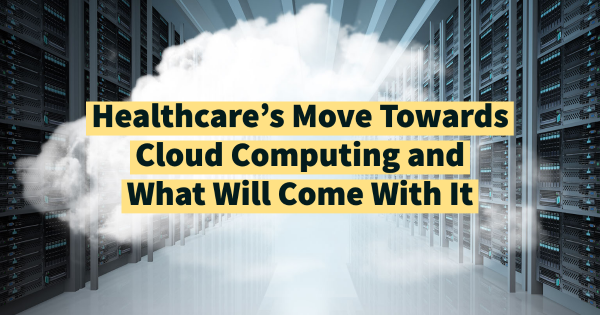 Right now, more data is being created than ever before. It's actually been estimated in the Seagate Rethink Data Survey by IDC that more data is being created every hour today than over the course of a whole year 20 years ago. Much of that data is being created by healthcare networks, especially post-pandemic. Right now, many hospitals, pharmacies, private practices, and other healthcare providers are seeking cloud and fiber solutions in order to help them be better equipped for the overload of data that they are currently dealing with due to the COVID-19 pandemic.
Right now, it's incredibly important that healthcare providers have great internet access as well as the space to store data efficiently. This is just one reason why many are considering upgrading their cloud and fiber solutions, as well as obtaining dedicated internet access. Healthcare systems have always been delicate, and security is a major concern for them due to the fact that they house the personal information of millions of different people. But as they move towards important upgrades, healthcare providers must consider how best to not only protect patients' privacy but work as efficiently as possible.
What Are the Advantages of Moving Towards Cloud Computing?
There are a number of advantages in healthcare providers moving more towards cloud computing. Cloud computing tends to be faster, more streamlined, easier to scale, and in many ways easier to use.
But currently, the benefits of healthcare providers moving towards cloud computing and similar fiber solutions, in particular, are incredibly clear and quite noticeable. This is because the healthcare world has changed dramatically following the pandemic. Patients who once could visit the hospital now have to be treated remotely. This has forced the move towards cloud computing much faster than originally expected.
How Are Healthcare Providers Reacting?
Healthcare providers are being forced to make decisions that they did not expect, and more quickly than they would have expected as well. They must choose between different fiber solutions, data center services, and of course whether or not to move forward with cloud computing. Right now, many hospital executives and other healthcare providers have chosen to pursue hybrid cloud solutions. These solutions allow them to have both on-premise and off-premise resources. Upfront capital expenditures are required for on-premise solutions, while there are also ongoing maintenance costs associated with it as well as the requirement for administrative staff. When off-premise solutions are utilized, many of the responsibilities are given to the cloud services providers. As healthcare providers are overwhelmed and overloaded right now, this could be seen as a major advantage by some.
But it's important to remember that as cloud computing becomes more popular among healthcare providers, they will also need more bandwidth to accommodate their move to the cloud. This bandwidth needs to be both reliable and easily scalable. Strong network capabilities are needed by healthcare providers in particular, as they need to be able to access patient information, health screening images, and much more. Therefore, as healthcare providers begin to move towards cloud computing, they must also move towards solutions that provide more bandwidth.