After Removing Gendered Signs from Toys and Bedding, Will Target Do the Same with Kids' Clothing?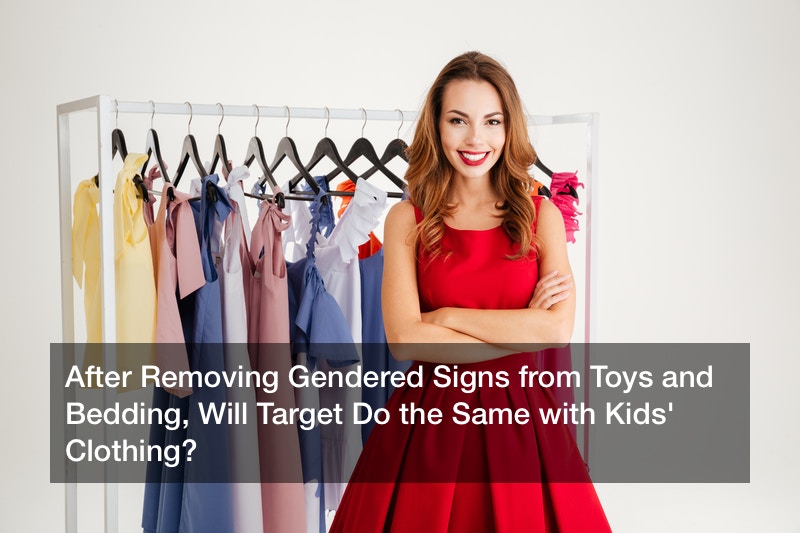 UPDATED 10/28/20
This August, retail chain Target announced that it would no longer separate children's toys by gender. Removing the "boys" and "girls" labels from the toy aisles, the chain said, helps to reduce the limitations on what shoppers feel they can purchase.
According to a press release from the company, some labels help shoppers find what they need faster, especially when shopping for someone other than themselves. But, they said, "In some departments like Toys, Home or Entertainment, suggesting products by gender is unnecessary."
The company removed gender labels from the children's bedding section, but what got the most press was the change made to the toy aisles.
"In the Toys aisles," the August 7 press release reads, "we'll also remove reference to gender, including the use of pink, blue, yellow or green paper on the back walls of our shelves."
While some shoppers declared that the policy was too liberal for them and threatened to boycott on social media — a move that also spawned a sarcastic customer service troll account on Facebook — others have praised the change.
In fact, TheWeek.com points out that although American retailer Target has abolished gendered labels in the toy aisles, clothing should be the next.
Ruth Margolis, writer for TheWeek.com, would like to see the removal of gender in the kids clothing section so she and her child have more options. "The enforced segregation of girls' and boys' fashion doesn't just pigeonhole our kids; it deprives Target and other stores of the cash parents like me would happily splash on gender-fluid — or neutral — garb," she writes.
"While I'm still in charge of my 2-year-old's sartorial choices, I'd like the option to clothe her in a way that doesn't scream 'girl,'" Margolis explained.
Even onesies and footed pajamas for babies tend to be split by gender according to color, despite being the same garment for all children.
"Onesies by design have always been unisex," says John Fitzpatrick, CEO, Big Feet Pajama Company. "We find it difficult to conform to marketplaces and retailers that require us to label a solid red onesie for example, for boys, girls, men or women. Our footed pajamas are marketed for the entire family in many colors, most of which are difficult to declare gender specific. Labeling is supposed to enhance or simplify the shopping experience, not define a person because they like green."
Margolis isn't the only one who wants more gender neutral options for her child. Three New Jersey moms have launched their own gender-neutral clothing line for kids, instead of waiting for stores like Target to catch up.
Mansi Batra, Jaya Iyer, and Eva Everett started the company, called Svaha, to provide gender-neutral and eco-friendly kids' clothes over the internet.
"We want to bring smiles to and empower all children in their passions no matter what they may be," Batra told NJ.com. "All children should wear and be whatever they want, in spite of gender stereotypes."
Clothing on Svaha's online shop includes designs for any child featuring printed fabric with motorcycles, butterflies, test tubes, flowers, and more — all without "boy" and "girl" labels.
As for Target, the changes to the toy and bedding aisles will still take place over the next few months. The company has not commented just yet on further planned changes.
People find it easy to purchase an item following the labeling that has been made in the store. Such has always made it easy for people to choose all ages toys. For instance, a person might not know the exact toy to buy for a boy. In such a case, they would easily choose one from the section that has been labeled to have boy's toys. This raises the question of whether removing gendered signs is a good or bad thing. The answer to this question depends on individual consumers. Some people would prefer to have the signs put in place to make it easy for them to shop.
Other people would need to have an opportunity to choose what they think is best without having the store choose for them. Therefore, removing the signs or not will have negative and positive impacts, especially when buying action toys for kids. The absence of the sign would have all of your toys in one place, giving you plenty of options to choose from. For instance, if you are looking for an action figure toy for a girl, it is up to you to choose one that you think best fits the description. A toy shop would have multiple options for consumers to choose from.
More: best baby shower gifts for unknown gender, best gender neutral baby gifts, circo kids clothes, gender neutral apparel, target girls bedroom, transgender doll target, all of the toys at target, boys vs girls toys, gender neutral women, girls pillowfort, pink toys for boys, target gender labels, target gender neutral children's clothes, target restroom policy change, target transgender announcement, toy aisle in target, transgender at target, what store sells circo, boy toys 2015, circo clothing manufacturer, gender neutral toys for kids.