California Restaurant Offering Discounts For One-Star Yelp Reviews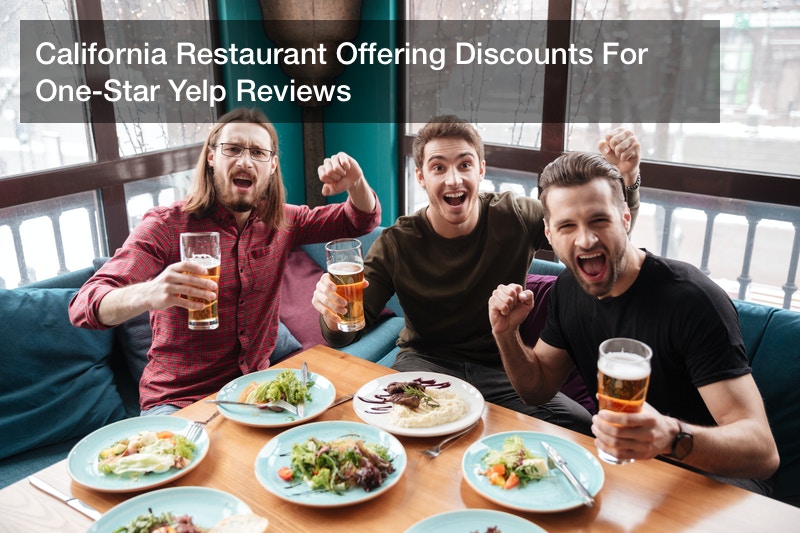 Updated 12/9/20
When you're in the mood for pizza, you might seek out the closest open pizza place to find what you're looking for. However, it's a good idea to find out what kind of pizza it is that they actually serve. With the many types of pizza being offered in every pizza parlor, it pays to find out what kind each restaurant has. A real Brooklyn pizza is a lot different from a Chicago pizza, for instance. If you like the kind that they serve, it's a great place for you to go for a whole pizza or a slice.
With virtually every area having nearby pizza parlors, it's easy to find the one that suits you the best. It may be a pepperoni pizza place, or it may be one that has dozens of toppings available. Be sure that you know how thick or thin the crust will be before you order, though. You may want to order a different kind of crust than the standard one that they make and sell. When you've ordered just the pizza you want from the best place nearby that can provide it, you will have a great meal with a classic, delicious dish.
Yelp, the popular website that allows customers to rate local businesses, has gathered a mixed reputation from business owners. On one hand, modern customers have begun to be increasingly likely to turn to the internet to research businesses, making a web presence and ratings more likely to result in a sale later on. However, Yelp has been repeatedly accused of manipulating reviews to increase the likelihood that a company will choose to advertise with the site; in fact, in early September, a California appeals court held up a 2010 dismissal of a class action lawsuit, which accused the site of extortion. Despite the ruling, many businesses are still upset with the way the site conducts its review process, but have been unable to find an effective method of challenging the company. Businesses are unable to remove negative reviews, or even remove their listings from the site, which leaves their reputation open to attack even if they refuse to advertise with the company.
However, Botto Bistro, an Italian restaurant in Richmond, California, has seemingly found an effective way to counteract Yelp's influence. Suspecting that the site might be removing positive reviews and boosting negative ones, the bistro's owners have started applying a unique tactic: encouraging customers to leave them one-star reviews to lower their Yelp rating.
Botto Bistro has launched a "Hate Us on Yelp Campaign", promising customers 25% off on pizzas in exchange for one-star reviews. And their plan seems to be working: since they instituted the campaign, the pizza-and-pasta restaurant has gathered a slew of low ratings, often complete with snarky, sarcastic comments. Users have complained that the restaurant was unwilling to serve pet cats and mongoose, for example, or reprimanded them for using horizontal pizza boxes. At the end of September, the bistro plans to share the funniest, most sarcastic review in their newsletter, as well as award the winner with a free ticket for one of the restaurant's cooking classes.
Co-owner Davide Cerrtini explains that the business simply tired of constantly being asked to advertise with the site and suffering the consequences of choosing to decline. As a restaurant that documents its most cringe-worthy interactions with customers on their "Village Idiots" web page, they also openly disdain the notion that positive reviews are vital to a successful business. Moreover, Cerretini calls the Yelp campaign one of the best business moves he has made in years: business is apparently booming, despite Cerritini's goal of becoming "the worst restaurant in the Bay Area".
The cause of this success is likely due to a combination of the restaurant's snark and cuisine. While Botto Bistro has a Yelp rating of two stars, it has a 4.2-rating on Google reviews, all of which compliment the food. Both Cerritini and his fellow chef, Michele Massimo, are from Tuscany and specialize in traditional Italian food.
"I think this is a very creative way to address the yelp review process. In the restaurant world, using premium fresh ingredients is essential, it is expected by the customer. If the food falls short due to poor ingredients, you'll definitely get a 1 star review. Nothing says flavor like fresh," says Gary, General Manager, Pollen Ranch.
Since the beginning of Botto Bistro's one-star Yelp campaign, the restaurant has actually been contacted by the website, warning that it is against protocol to pay for reviews or offer discounts for writing reviews. While the rule is designed to prevent businesses from manipulating the system, Botto Bistro is specifically seeking bad reviews for an alternate goal: if the site uses questionable practices, they feel that the reviews customers read should be equally questionable.
Related Topics:
1 star review places, 1 star yelp, 5 star yelp review logo, bad restaurant reviews on yelp, give yelp review, go to yelp, 0 star restaurant near me, 1 star restaurants near me yelp, american kitchen company yelp, anti yelp, ask york tripadvisor, bad restaurant reviews near me, baycliff apartments richmond ca yelp, bella siena benicia yelp, best italian restaurants in san francisco 2014, big jones yelp, botto pizza, botto richmond ca, credit yes reviews yelp, fake yelp restaurant, great yelp reviews.