Canon City Man Avoids All Electromagnetic Waves Due to Special Disease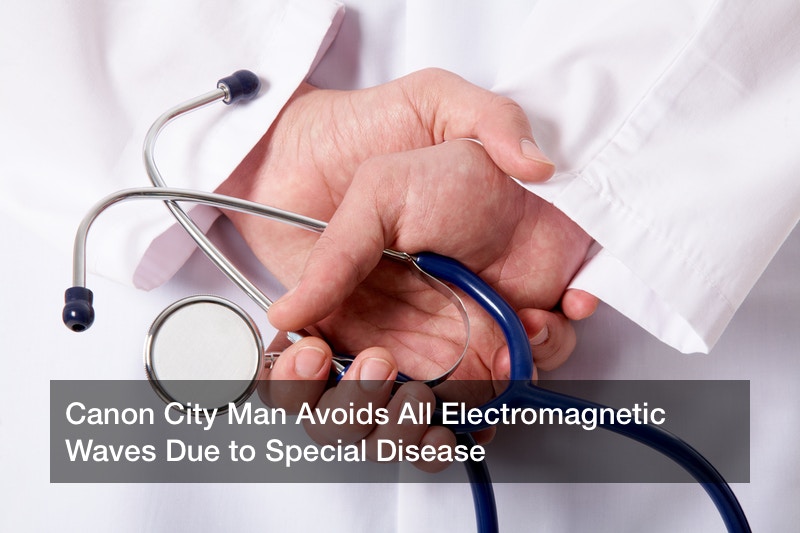 UPDATED 10/15/20
Gary Johnson of Canon City, Colorado isn't too keen on wireless technology — in fact, he claims that the wi-fi and cellphone signals commonplace today are making him sick.
CBS4 Denver reports that Johnson, a retired professor of electronics, takes precautions when venturing outside his 59-acre gulch, which features high walls that block off nearly every kind of frequency. He carries a gigahertz solutions radio frequency detector wherever he goes in order to measure wireless frequencies. He even carries it to church.
After attending his former church on Sundays, Johnson claimed he would feel fatigued for 24 hours after the service. Then one day he brought his frequency detector to Sunday service and found that it read well over 1,000 megahertz, which made sense considering the church was across the street from a cellphone tower.
After discovering the high frequencies, he decided to attend church services in a church 15 minutes further away from his previous one. Johnson claims he no longer gets sick after attending service.
Johnson believes he has a condition known as electromagnetic hypersensitivity (EHS), which produces symptoms not unlike those that occur from allergies to items such as peanuts or pollen. He and others with EHS "just got put together in a way that's more sensitive [to electromagnetic frequencies] than other folks," he said.
To protect himself from harmful frequencies in his house, Johnson uses a landline telephone and accesses the Internet on a hardwired computer. He does not use a cellphone or wifi services.
Electromagnetic sensitivity has only recently has been identified, and is attributed to the proliferation of wifi and cellphone technologies. Dr. David Carpenter, Director of the Institute of Health and Environment at the University of Albany, believes EHS affects up to 5% of the American population and, moreover, that they don't know what's bothering them due to the recent discovery of the disease.
"They walk around feeling ill and don't know what to do about it," Carpenter said.
"Smart phones and WiFi make your life easier unless you have become one of the millions of people worldwide who suffer from Electromagnetic hypersensitivity (EHS)," says Virginia Brown, Occupational Therapist/President, BioElectric Shield. "In the BioIniative Report, more than 1800 studies reviewed by 29 independent scientists and health experts from around the world warn us that the rising levels of EMF radiation are causing dangerous bioeffects, both in humans and all living organisms. In the 21st Century, using EMF protection devices will be just as important as clean air, water and food for maintaining a healthy body – for yourself and your children."
Being hypersensitive to electromagnetic waves can cause difficulty if someone is placed on bail or probation. The ankle bracelet that many courts impose on those who are released from custody communicates with the authorities works via electromagnetic waves. This creates a problem when looking to make bail and bail bonds. If you find yourself in a similar situation, communicate your sensitivity when negotiating your bail bond terms.andnbsp;
When searching for bail agents near me make sure you are choosing a reputable and experienced bail bondsman. The choice of bail agents near me is an important one as you are quite literally placing your freedom in their hands. If bail bond papers are not filled out correctly, you may lose your freedom and, depending on the bail bondsman, you may lose your paid fee even though you engaged in bail bond services in good faith.
More: bondsmans near me, alamosa bail bonds, canon city co jail, animas bail bonds, fremont county bail bonds, fremont bail bonds.