Cuban Dentist to Practice Again After Eleven Years Defecting From Cuba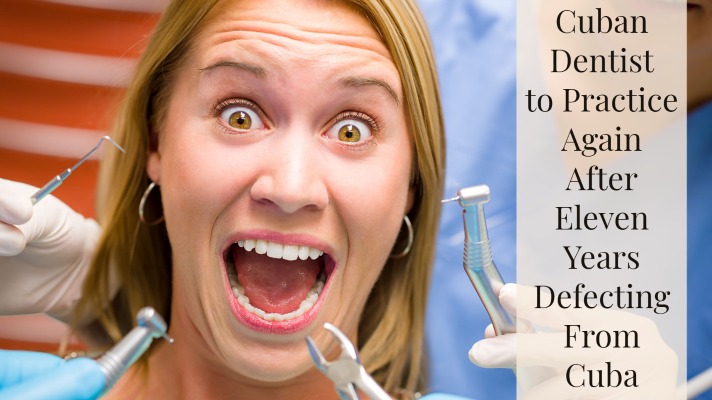 Many people who have a dental education go into providing charity dental services for others. This allows you to cover dental services for those who really need help with their teeth. Often, you have people apply for dental care and get chosen for these services based on their income and living expenses. It is especially helpful to be able to cover dental care for kids who really need it. In a perfect world, everyone could get the dental care they need, but it can be great to give help to all of the people in need that you are able to.
Dr. Amaurys Ramirez, a dentist, plans of working permanently in the United States after defecting from his native Cuba more than 10 years ago.
Rutgers Today reports that Ramirez has been living in the U.S. since 2007, after having spent three years in Venezuela. Ramirez defected to Venezuela in 2004. He sent there by the Cuban government in a group of dentists to provide dental training for Venezuelan dentists. Ramirez recalls listening to a stern lecture regarding patriotism and disloyalty delivered by Fidel Castro, who was Cuba's leader at the time.
Ramirez, who is now a student at the Rutgers School of Dental Medicine in its Internationally Trained DMD program, recalls wanting to leave Cuba for a long time.
"I made my decision," Ramirez said. "I said to myself, 'This is not the life I want to live.' In America, you're not afraid. In Cuba, it's different, you have to watch what you say to everyone, even your neighbor."
Ramirez recalls the lack of information, strict censorship of the media, and outdated technology in his native country. He never owner a cell phone, for example, or bought a DVD.
Ramirez decided to stay in Venezuela rather than return with the rest of the group on 2004. Three years later, he managed to make his way to Tampa, Florida, and applied to the Cuban Medical Professional Parole program, which grants Cuban healthcare workers refugee status in the U.S.
However, due to his poor English-speaking skills and his below-par dental training in Cuba (he claims he didn't have the resources to perform a root canal), he was unable to secure a job in the dental field for a long time, either as a dentist or as a dental assistant.
"In the beginning it was really hard, like being a child again and learning how to walk. I got a job doing something that was in a lot of ways the opposite of what I was doing before," he said. "The language barrier was huge. No one wanted to hire me because I couldn't speak English very well."
After six years of searching for work (during which he made a living working for a landscaping company and, eventually, as a dental assistant), he enrolled in the DMD program, which enables people educated in dentistry outside the U.S. and Canada to eventually earn a license to practice in the U.S.
Now 35, Ramirez is set to graduate from the program soon, after which he hopes to work as a dentist in Florida. He also hopes to visit his family and friends still in Cuba now that the U.S. is lifting the sanctions that have been in place since 1959.
Dentistry is considerably more advanced in the U.S. and the population, for one, takes full advantage of it. Nearly one quarter of Americans claim, for example, that correcting or changing their teeth would improve their self worth.