Quincy Medical Center ER in Quincy, MA To Stay Open, Despite Hospital Closing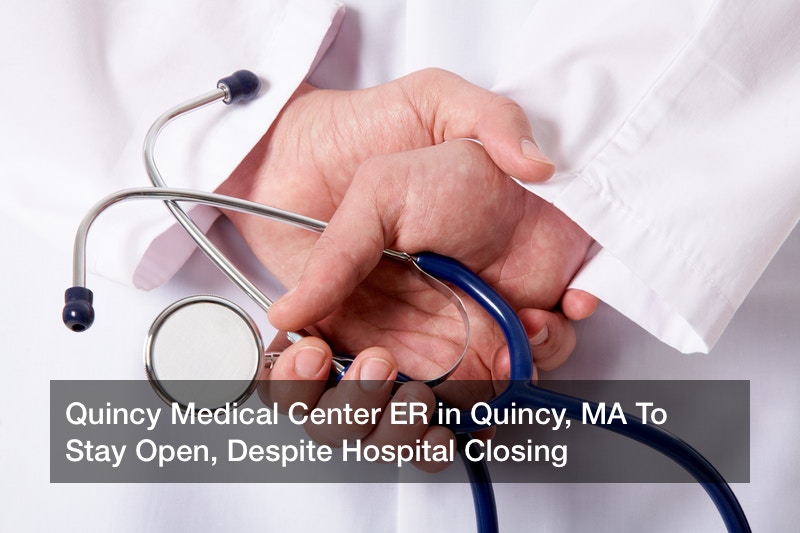 UPDATED 11/13/20
The Quincy Medical Center has announced its intention to remain open for patients to access care at the emergency clinic.
The need for urgent care doesn't go away. Quincy's clinic is open 24 hours a day, ready and dedicated to our local community members requiring prompt treatment after an accident and emergency room services such as radiology diagnostics and laboratory testing.
Want some more information about urgent care?
Quincy Medical is still the best hospital for chest pain symptoms to be assessed and treated appropriately.
Chest pain can be attributed to various factors; from muscle strains, to anxiety, to heart conditions…and it can be difficult, even dangerous, to self-diagnose.
Do you know the best time to go to the hospital emergency room?
Anyone with previous heart conditions should not hesitate to access emergency care for chest pain. Follow the prior instructions of your physician.
When in doubt, always seek out medical attention and don't ignore your symptoms.
The Quincy Medical team of professionals in their urgent care emergency clinic takes your health seriously, you should too.
The Steward Health Care System, which currently owns the Quincy medical center emergency roomandnbsp;Quincy MA, has been facing a less-than-happy holiday season as it prepares to close the majority of Quincy's local hospital, much to the dismay of residents. As far as Quincy medical center news goes, this certainly isn't great.
According to Boston Globe reporter Priyanka Dayal McCluskey, Steward had originally planned to close the medical center entirely, but as of December 16, the NY-based hospital chain has announced that it will keep the Quincy emergency room of the Quincy Medical Center open, although it will begin shutting down the other wings of the clinic in the coming weeks.
With the finances of Quincy in shaky condition, Steward executives announced that it would close the hospital, and its adjoining emergency room, by the end of the year.
Despite servicing an average of 80 patients in its ER per day, Quincy Medical Center has been struggling financially for the past few years; McCluskey explains that the local hospital had been on the brink of bankruptcy before Steward swooped in and purchased the hospital about three years ago. And while community care services may be elsewhere in the area, the Quincy medical center emergency roomandnbsp;Quincy MA patients relied on is now gone.
Thanks to widespread protesting, involving many of Quincy's 93,000 residents as well as vocal regional politicians, the company announced at a recent public hearing that it would close every part of the Center, save for the emergency room, and would transfer the hospital's ER license to nearby Carney Hospital in Boston so that Quincy's 24-hour emergency medical operations could continue.
As a local ABC Boston news outlet states, the remaining ER will still be located in the hospital building, but it will become a "satellite ER" rather than a full-fledged hospital emergency department. The center will continue to be fully staffed with doctors and nurses, according to a spokeswoman for the Department of Public Health, and will continue offering radiology diagnostics, testing, and lab services. For all intents and purposes, the Quincy medical center emergency roomandnbsp;Quincy MA residents know and love will — somehow — change from a hospital wing into a community urgent care center. Community care express will be helpful, but residents are worried about the transition.
"In a small community where the local hospital is where all medical care is given, a closure would be very disconcerting to the residents," says Terri Porter, Clinic Administrator, Doctors Express Phoenix. "However, often times forced change can also be a time of re-evaluation and subsequent growth. Having a clinic for less serious medical conditions can still give some measure or reassurance to the community."
It's clear that residents are pleased with Steward's decision to continue offering round-the-clock medical care for the town of Quincy, but such a big change in medical care is likely to cause some problems. Without access to physical therapy tools at a local hospital, the community may experience health issues. Community hospitals in MA are in need of better funding, especially if the Quincy medical center emergency roomandnbsp;Quincy MA is to set the example. Hopefully, for Steward's sake, the ER's transition from a hospital wing into a satellite medical center will be seamless and will continue to provide residents with community care access and emergency room care — because if this doesn't happen, Attorney General Martha Coakley has already promised the town that she would seek legal action against the company if it fails to provide adequate care.
UPDATE: July 14, 2020
Due to concerns about the COVID-19 virus, Quincy mayor Thomas Koch urged for the reopening of the Quincy Medical Center in March 2020. During initial talks, Koch suggested that the shuttered medical center could be used to treat patients or as a sample collection site.
"That could be a testing site perhaps," Koch said in an interview with CBS Boston. "We can bring the tents in, we've already lined that up logistically."
And as of July, talks of shuttering the emergency department that was initially left open during Steward's 2014 bankruptcy have begun. The Dallas-based company sold the building to FoxRock Properties in 2016, which now plans to use the space as part of a new apartment complex.
Related: 24 hour pharmacy quincy ma, convenientmd urgent care weymouth ma, first choice emergency room closing, quincy health express, south shore health quincy, south shore health quincy ma, carney hospital events, good health store quincy, hancock parking lot quincy ma, medcenter south check in, minute clinic quincy, quincy center primary care, quincy center quincy ma, quincy ma medical center, quincy medicine, quincy mental hospital, south quincy ma, south shore hospital braintree ma, south shore medical beauty consultants, south shore medical quincy ma, urgent care quincy mass.