Brothers' Roofing Scam Lands Them in Prison for 20 Years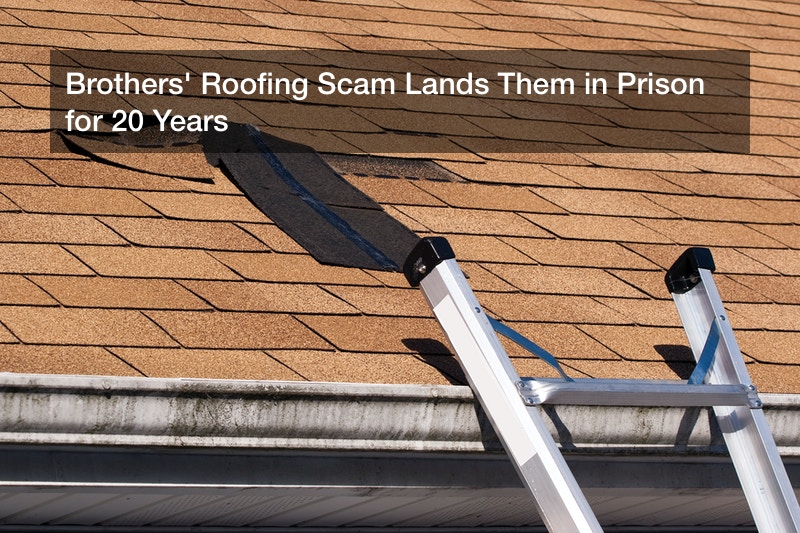 UPDATED 11/25/20
Two Georgia brothers will serve up to 20 years in prison after being convicted of running a roofing scam. Worse yet, it's a scam that specifically targeted the elderly, DeKalb County authorities announced.
According to the Atlanta Journal-Constitution, Keith Ogles, 50, of Jonesboro, and Jeffrey Ogles, 52, of Griffin, both pleaded guilty to charges of financial exploitation of the elderly and home repair fraud. The two must serve at least 10 years of their sentence in prison and will be required to pay $100,000 in restitution to their victims.
During their scam, the brothers significantly overcharged four seniors for roofing work that ultimately did damage to these roofs rather than improving them. When one of the victims refused to make additional payments to the men, the two threatened to tear up his roof, authorities said.
"This pair deliberately preyed on elderly victims, who were all in their eighties, and demanded payments that reached over $130,000," DeKalb County District Attorney Robert James said. "This was a calculated scheme that targeted and exploited elderly homeowners."
One of the victims, an 89-year-old woman suffering from short-term memory loss, ended up paying the brothers more than $40,000 for a job that ought to have cost less than $1,500. Because the woman couldn't remember them ever doing work on her home, the brothers charged her over and over.
"This is an issue in most states; usually these scammers are soliciting their services door to door, they use high pressure sales tactics and promise homeowners ridiculous deals if they sign a contract and give them money that day," says Peter Kiwior, Owner, Pro Home Services Inc. "The best way to protect yourself from scams like that is to check with your local Better Business Bureau or Secretary of State to see if the business is registered and incorporated, ask your neighbors or friends for referral if you need a contractor, don't sign any documents with blank spaces and be suspicious when someone is soliciting their business knocking on your door."
Authorities first became aware of the Ogles' scam in November 2014, when the 89-year-old woman tried to withdraw $16,000 in cash from her bank, Wells Fargo. The bank alerted authorities, and Atlanta police fraud investigators soon uncovered the over-payment scheme.
On Nov. 24, an elderly couple who had paid the Ogles brothers more than $20,000 for roofing work came home to find the brothers on their roof, uninvited. They called the police, who then arrested the two on prior warrants they had obtained.
Because so many home improvement scams target the elderly and other vulnerable members of the community, James stressed that improved vigilance against these scams is necessary. That is exactly what Ogles roofing scam did best: prey on people who needed their help the most.
Worse yet, homes are only getting older. New home constructions are still flourishing but countless older homes are reaching their structural limits, both in terms of roofing, siding, and foundations. You will first start to notice the signs of roof damage through breaking or curling shingles. Some might even show moss growth where water is pooling instead of sliding off of the shingles. These are aspects of the home that you don't need to worry about until issues start to develop. But when all of these issues start happening at once, it's enough for any homeowner to turn to the first option they come across. In this case, it just so happened to be the Ogles roofing scam. Remember these signs your roof needs to be replaced the next time you're considering contacting a good roofing company.
Your house's roofing is one of the most important components of the house. When there is a problem with your roofing, the entire rest of the house will be affected. If you have just a few shingles missing, you can look for asphalt shingles for sale and attach them to the roof yourself. However, for more involved problems, you will need to find a roofing repair company to do the job. First, you need to find the best roof repair company that is in your area. Then, you need to schedule your roofing repairs. There may be an initial inspection and consultation before any work gets done.
The top roofers will use the best roof repair products when they work. It's up to them to get the best roofing products in order to deliver high-quality work. It can take weeks to get a roof completely repaired so that it's water-tight again. When your roof repair work is done, you can enjoy a better roof that won't cause damage to your home and you won't have to catch water in buckets again. Getting a roof repaired can be expensive, but it's one of the best investments you can make in your house.
In fact, the average age of a home in the United States is almost 40 years in age. While this is young in human years, this is more than double the age that you would want to invest in a roof replacement from a company like Ogles roofing scam.
While a roof in Arizona will likely need to be replaced less frequently than somewhere with inclement weather in the Northeast, this rule of thumb is a great way to stay on top of your home's health. As such, you should also inspect your home's roof at least twice a year to ensure its health. Luckily, this is easy to do whenever you clean your gutters. If you're uncomfortable doing it yourself, you can always rely on a professional for roof inspection tips or other roof repair options.
It's important to remember that quality roofing companies will rarely travel from door to door to seek new customers. They will typically rely on tried-and-true marketing techniques or leave flyers instead. Common roofing scams are easy to identify through online reviews and good research.
"We all have to be vigilant in making sure that our parents and grandparents are not being taken advantage of and exploited by criminals like the Ogles brothers," James said in a statement about the Ogles roofing scam. "Far too often, we hear of similar crimes that involve caregivers and even other family members who take advantage of vulnerable adults."
If you know or care for an older family member or friend, you should be on the lookout for scams. Home improvement scams, like roofing companies or landscapers, are one of the most common kinds of scams against seniors but they are far from the only ones. Other common scams against seniors include medicare, internet, investment, and reverse-mortgages. Roofing issues are just one of many common summer scams.
You can teach the seniors in your life how to spot scams but if they have dementia or other memory problems, you may want to take steps to ensure they don't get taken advantage of. Scams can cost seniors hundreds of thousands of dollars and the aftermath can very difficult to deal with so protect your loved ones today.
The success and chances of replacement of your roof are determined by the type of contractor you choose.
How can I get the roofing components explained?
Is this your first project as a homeowner? Are you stuck on how to go about the roofing of your home? We understand that most people know little about roofing. Ensure that the roofing components are explained to help you make the right choices.
Where do I get various roofing material brands?
Everyone desires a good looking roof. Our company offers a variety of roofing material brands to choose from. The brands we supply guarantee you durability and affordability.
Where do you get roofing suppliers in my area?
Do you reside in Florida? Wondering where to get roofing suppliers in the area? Before choosing roofing contractors, it is important to understand their working terms. Our staff is dedicated to get roofing terms explained to our customers before engaging them in any projects.
Of all the parts of a home, the roofing system is one of the most critical but also one of the most overlooked of them all. Whether it is a minor issue, routine checks and repairs, seasonal maintenance, or a more serious issue, working with a skilled and experienced roofer is key to keeping your roof in good working order. There are many things to consider when you are looking at roofing options and costs and it can be overwhelming at times. Many common roofing materials are available to choose from for your roofing needs and these include commercial shingles and residential options for sloped and flat roofing systems. Whether you are looking for commercial roofing materials or residential roof shingles and panels you need to make sure you are working with a contractor who knows how to work with the materials, roofing type and location that meets your wants and needs. The roof is a key part of any building and needs the skill and experience of someone who knows their way around a roof like yours.