Businesses That Have Thrived During COVID… and Some That Weren't As Lucky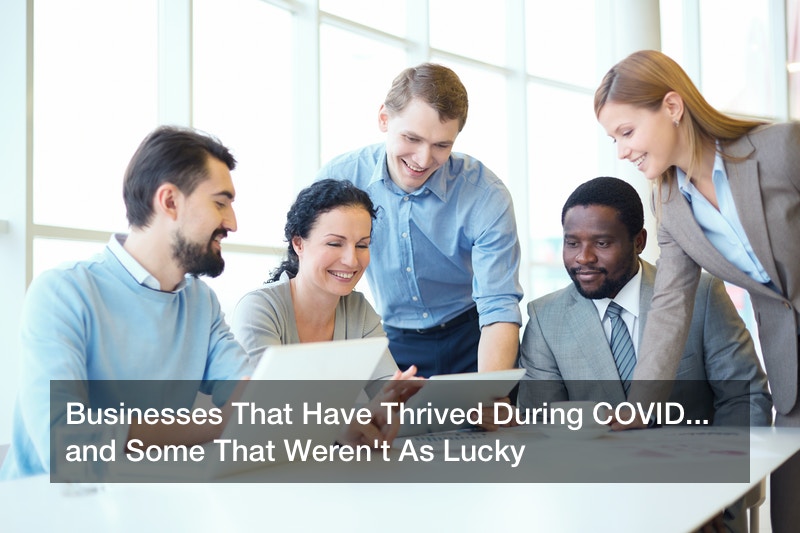 The global pandemic that is unfolding at the current moment has taken its toll on economies all across the world. While the health concerns of the pandemic have created untold losses in the lives of people everywhere, the economic losses caused by COVID-19 have also been enormous. However, what is interesting is the fact that somehow there are certain businesses that have actually seen an improvement. Here are just a few businesses that have thrived during COVID-19 and some that have not been as lucky.
Online Entertainment and Streaming Platforms Appeal to More Users
As we all know, the extensive health and safety orders put into place by many state and local governments have severely limited the amount of in-person contact that people can have. While these kinds of changes have affected everyone from standard office workers to more specialized employees like commercial roofers, other industries have seen a rise in demand. One such industry is that of online streaming platforms and entertainment outlets.
Before COVID changed everything, people were far more likely to go out on weekends and weeknights in order to seek out entertainment for themselves and their family members. Now that many businesses and other entities have decided to close their doors, people are staying in more. This means that much of their entertainment has been outsourced to Netflix, Amazon Prime Video, Hulu, Twitch, and other live streaming and online content platforms. These streaming platforms have enjoyed some major boosts since the start of the pandemic in early 2020. As the weather begins to shift back to colder temperatures, it is likely that these kinds of business models will enjoy and an even greater wealth of new and returning customers.
To assist these types of business models, many large entertainment companies are partnering and signing deals to release their content online exclusively. With movie theaters and other entertainment venues shut down due to local health and safety orders, production companies are looking to streaming platforms to release their shows, performances, and movies that were waiting for a wide release. While making use of these online streaming platforms may not be the ideal scenario for many producers and other entertainment companies, at least they now have the option for getting entertainment out to consumers.
Gyms and Other Athletic Facilities Have Suffered
With some business models that allow for natural social distancing, such as commercial paving services, the current global pandemic may present some unique health and safety problems. But in many cases, a business model like this is able to adapt and change to meet the changing needs of its users, and the wider world at large. With gyms and other athletic facilities, there are lots of different challenges that must be addressed in order to maintain the health and safety of any visitors. Many of these changes include lowered capacity and other alterations that end up costing business owners lots of money. In many cases, owners of gyms and other athletic facilities have just thrown in the towel altogether, as following some health guidelines may mean losing profits each and every time they choose to open their doors to the public.
Similar to other business models, gyms must be vigilant in their cleaning and sanitation efforts in light of the COVID pandemic. However, gyms face some unique challenges in regards to respiratory concerns. As we all know, COVID is the result of a novel coronavirus that attacks the respiratory system. Gyms pose some substantial risks for the spreading of these kinds of viruses. With people working out and breathing heavier than normal, they are spreading more of the kinds of droplets that are likely to spread illness. When combined with close quarters and large groups of people, gyms create a dangerous vector for the transfer of illnesses such as COVID-19.
Some gyms who have excess cash on hand have been able to make some changes to their business models in order to stay open during the current pandemic. However, many of these gyms are choosing to take a hit on their finances in order to continue serving their customers. Most gyms that are staying open are making health a top concern. They will only allow a certain amount of people in the gym at once. They will also require masks to comply with local health orders in most states. Gyms that are open right now also have to be absolutely aggressive in their approach to cleaning and disinfecting surfaces. Once again, the act of exercise increases the chances of droplets that can spread disease and illness quickly and easily.
Workplace Technology and Software Solutions Soar
Due to local, state, and federal health and safety guidelines put into place by government officials, most employees have been forced to work at home. While this has certainly caused some major problems for business across all kinds of industries, new work at home orders have also created some new opportunities for workplace technology and software solutions. Whether you look at the office of a personal injury attorney or a customer service call center, online platforms are absorbing a lot of the work that would have otherwise been performed in a live, face to face setting.
Popular new technology apps like Zoom and Slack are doubling down on making it easier for companies to collaborate with one another on the internet. This adaptation to the new normal has created a number of excellent opportunities for new software to make itself useful for business owners. With online video chats, companies are able to maintain a sense of community and cohesion within their teams. They can also drill down into complex issues and problems with these new software solutions, sometimes achieving smart solutions that may have never arisen within the context of an in-person setting.
Liquor, Wine, and Beer Sales Increased
With so many people stuck at home all day and night, it should not come as too much of a surprise to learn that so many people have turned to their vices. As a result liquor stores, beer outlets, and wine shops have all seen major sales increases across the span of the global pandemic. Sure, it may be more challenging to look for the ways in which a global pandemic may affect a complex business such as a criminal defense law firm, but the fact of the matter remains that day to day businesses are those that have undergone some of the largest changes.
There is a slight irony to the fact that in a world where health is a major concern, people are turning towards drinking more alcohol. However, as past economic declines have shown, booze sales tend to remain constant and steady, as people like to drink away their pains and boredom.
Takeout and Food Delivery Services
Obviously the world of restaurants has experienced some major changes since the COVID-19 pandemic. Many restaurants have been forced to close their doors either temporarily or in a more permanent fashion. However, as we have already seen in this list, there are always some other businesses that absorb customers when one business loses them. Takeout and other food delivery services have seen an enormous boost since the changes to in-person business models such as restaurants. Some restaurants who have been able to adapt to takeout have found that it allows them to operate with fewer staff members and lower overhead, both factors that are key to staying afloat in the restaurant business during tough economic times.
Many popular online food ordering apps such as Uber Eats and Door Dash have experienced some huge growth. Once again, more people spending more time indoors and around the house means that they are far more willing to order food rather than going out to eat. However, even restaurants that have begun to promote their takeout services have seen enough of an incentive to keep their doors open at least a little longer.
Some of the financial stimulus packages rolled out by the federal government have also allowed some businesses in the food industry to remain open. One of the biggest costs that most restaurants have is employee payroll. With funds provided to businesses to cover payroll expenses, many businesses in the culinary field have been able to continue to provide their employees with fair pay, thus leading to an increased ability to offer more services that can meet the needs of the new world.
Firearms and Self-Defense Dealers
Firearm sales have seen an increase since the pandemic started. This change is likely being fueled by a desire for self-defense that comes with a pandemic of this scale in a more general sense. In any case, many firearms dealers have reported seeing a major surge in the sales of firearms and other self-defense items.
It's important to note that if you're involved in any kind of legal trouble, pertaining to firearm sales or anything at all, you might want to consult with a professional bail bond agent.
Hardware and Home Repair Stores
People who stay at home a lot begin to notice problems in their homes that need to be fixed. Others may end up causing more damage to their home because they're doing many more activities around the house now that local health orders mandate social distancing. This means that hardware and home improvement stores are flourishing. Whether you look at the change this has had on commercial builders and contractors, or if you simply focus on the larger societal implications, home improvement stores are seeing huge numbers that favor a do it yourself model.
While something like commercial HVAC repair is something that experts can tackle, people who are taking on smaller home improvement projects are more willing to try them out for a few reasons. First and foremost, they have more time on their hands. Secondly, they are able to educate themselves by researching a topic and coming up with a plan of action. These factors encourage them to visit a store and gather the supplies they need to perform a home improvement project that also passes the time in quarantine.
Movie Theaters and Performance Venues See a Harsh Decline
As mentioned earlier, more people are shifting to online platforms in order to consume their entertainment. This is largely because health mandates do not allow large crowds to gather. Even group recreational activities like gathering on a fishing boat have seen a pretty steep decline. Shows, festivals, and other performances are on shaky ground for the foreseeable future. Several staffing agencies that focus on these industries have been forced to adapt to an entertainment climate that does not allow for people to gather in mass. Movie theaters, similarly, face some harsh challenges in the months and years to come.
People who may have been regular customers of a local theater are now looking for other activities to pass the time. They may be watching movies from home or taking care of more practical concerns such as hiring a probate attorney to set up their estate. In any case, it remains to be seen if movie theaters and other live performance venues will be able to bounce back from all this. Some glimmers of hope have been seen in the resurgence of socially distant movie theater options such as drive-in theaters. But even these business models face some unique kinks that will need to be ironed out if they are going to last long term.
In-person Consumer Good Stores Have Experienced a Drop Off
In person consumer goods stores have been severely impacted by the current global pandemic. There are a plethora of factors overlapping to create some real fundamental issues for these kinds of businesses. Some larger corporations have experienced huge issues with their supply chains and freight shipping since the pandemic began. Smaller stores may have experienced problems so severe that staying open was costing them more than it was worth.
As a trend present in almost all of the business models affected by COVID-19, online platforms make business possible and profitable. With so many businesses in the consumer goods sector relying on foot traffic in their stores, the transition to online commerce has been tough. In some cases, businesses tried to shift to online ordering, only to have much of their customer base absorbed by online titans such as Amazon or Target. These business models already had a head start on making online commerce seamless for their customers. As a result, people who may have shopped at a local consumer goods store in their local town have taken their business online to these larger commerce outlets.
The current global pandemic that we are all facing has certainly taken its toll on our health. But as we can see from this list, there are several industries that will forever be changed by the situation we are all facing in the present moment. With time, some of these business models may bounce back, while others may be gone forever. Whatever you do, remember to stay safe, stay healthy, and be kind to one another.