How You Can Help Victims of the Turkey-Syria Earthquake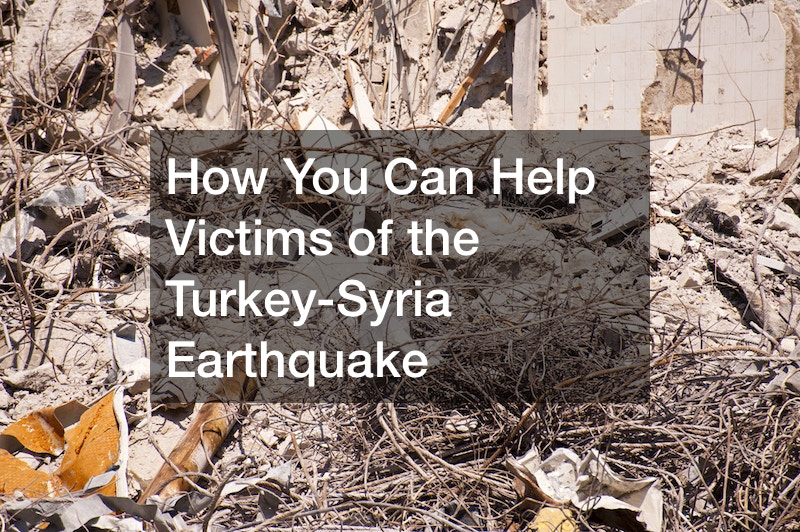 On February 6th, 2023, a devastating 7.8 magnitude earthquake hit Southeastern Turkey and North Syria. Nine hours later, another 7.5 magnitude quake struck southwest Turkey, followed by 317 aftershocks as of February 8th. According to World Vision, the deadly earthquake is responsible for destroying over 2800 buildings, leaving thousands dead and thousands more displaced and homeless. Non-governmental organizations, foreign nations, and charities have launched earthquake relief efforts to provide affected people with medical supplies, food, and shelter.
How Have the Earthquakes Affected Syria?
The scale of damage brought by the earthquake is tremendous. The aftershocks have destroyed thousands of homes, where 2 million people were already internally displaced due to a decade of civil war. The damage has affected electricity and gas supplies that most people depend on for heat. The internet and cellular networks have not been spared either. Furthermore, the health system has also weakened following a strain of cholera outbreak that hit the country recently.
How to Help the Victims
Adequate funding is urgently needed to help most affected victims survive the crisis and get sufficient support during this challenging time. One of the best ways to offer support is by sending money to relief groups. You can also partake in restoration services, especially if you have handy skills. For instance, a roofer will ensure the victims have a safe roof over their heads.
Donations make it easier for relief groups to buy what is needed, and buying goods locally will also contribute to the country's economy. Earthquake relief in the form of money, food, essentials such as blankets, sanitary supplies, first aid services, emotional support, and search and rescue services goes a long way in ensuring victims get the basic needs they deserve for survival after a tragedy. If you wish to take part in donating to victims of the Turkey-Syria earthquake, here are some local, national, and international organizations working to assist the victims and families.
1. UNICEF
The United Nations International Children's Emergency Fund (UNICEF) is in Turkey to assist earthquake victims. UNICEF is working on providing necessities such as blankets, baked goods, warm clothes, and sanitary kits to families in need. Since people got stuck in the rubble, UNICEF has created a platform to host lost/ unaccompanied children in safe house before reuniting with their loved ones. The organization's core mandate also comprises supplying clean water through an emergency response (WASH) that offers hygiene and sanitation. The Syrian government has since closed schools to be used as shelters for displaced persons as the organization continues to provide emotional and psychological help.
2. White Helmets
The White Helmets are a volunteer group that seeks to help those in need in Syria. The organization consists of over 3000 volunteers, including plumbing repair workers, firefighting engineers, technicians, and pharmacists, all coming together to help anyone in need. The organization has gained popularity in the way they have swiftly responded to the 7.8 magnitude earthquake strike that hit across the border in southeast Turkey.
The devastating earthquake has left thousands of people dead and more trapped in the damaged buildings. You can contribute to their organization to help them acquire more equipment and supplies to search for more victims trapped in the wreckage. All donations are currently structured to help Turkey-Syria victims during this trying time.
3. UNHCR, the UN Refugee Agency
In a sad state where thousands of people are stuck in their own countries, Turkey and North Syria, families desperately need food and shelter to survive. The UNHCR is currently based in Turkey to provide affected victims with blankets, winter jackets, clothes, food, sanitary wear, and warm shoes.
The earthquake has affected many Syrian people, worsening an already bad situation. Remember, the country hosts many internally displaced people living in tents and flimsy shelters. The earthquake didn't spare these makeshift shelters, leaving the IDPS homeless. Before the earthquake, the communities have been hosting thousands of refugees in Turkey for over a decade. The UNHCR has made donations a breeze by accepting various money transfers, including MasterCard, PayPal visa, and American Express. In fact, they accept local payment methods such as Mpesa.
4. Syrian American Medical Society
Even though one of their hospitals has been closed due to damage brought about by the earthquake's aftermath, the society continues to work tirelessly on the frontline of terror. The organization assists by treating patients and donating medical kits and emergency aid. The donations help purchase more medical supplies to help the suffering patients.
Already, the society is dedicating $250 000 in response to the earthquake by supporting the Syrian Forum's emergency projects. The efforts are dedicated to providing shelter and food security. However, due to the impact of the disaster, SAMS is appealing for help to gather more resources to address the arising problems. You can send your donation via Amazon pay or Paypal, geared toward providing shelter and food.
5. BU Turkish Student Association
The BU Turkish Student Association (BUSTSA) has been raising money to aid the ongoing recovery efforts of the earthquake victims. They have set up donation drives and fundraisers to collect money for buying and distributing coats, blankets, thermoses, socks, and scarves to those in need. Furthermore, they have been working with local organizations to ensure that all donations go towards helping those affected by these natural disasters.
Through their efforts, they hope to make a difference in the lives of those affected by this devastating event. BUSTSA's efforts are a testament to the power of community support during times of crisis. Their commitment to helping earthquake victims demonstrates how we can unite as a global community to transform people's lives.
6. Humanitarian Relief Foundation
Humanitarian Relief Foundation is a non-profit organization working to bring earthquake relief to victims of hurricanes, earthquakes, collisions, and other natural or artificial disasters. The foundation is headquartered in Istanbul, Turkey, and operates in Syria, Iraq, Jordan, Bangladesh, and other nations. HRF Foundation has developed a solution that has been tested and validated, which will be a game changer in emergency and disaster management.
7. GlobalGiving
GlobalGiving has helped earthquake victims by providing them with access to essential supplies such as food, clean water, and medicine for survivors. The organization is also working to provide families with temporary housing. In addition, Global Giving has partnered with local organizations to provide earthquake relief and assistance to earthquake victims and communities affected by natural disasters. The organization has launched the Turkey and Syria Earthquake Relief Fund to rebuild homes, schools, and infrastructure and provide mental health support and trauma counseling for earthquake survivors. Part of the assistance will involve asphalt paving repair.
8. Save the Children
Save the Children is helping earthquake victims in Turkey -Syria by providing food, water, and shelter. They have been working to protect children from the dangers of the earthquake, including aftershocks and collapsing buildings. Save the Children is working with local partners to provide medical and psychological support to children affected by the disaster. Their goal is to help children and families recover from this devastating event and to rebuild their lives. By donating to earthquake relief, we help change a life, and even though things may never go back to normal, it's a step towards healing.
9. Project Hope
In the aftermath of the earthquake, Project Hope provides medical supplies and personnel to help treat the injured and displaced. The organization is also working to provide earthquake relief, such as clean water, food, and shelter, to those who have lost their homes. Project Hope is committed to helping the people of Turkey recover from this tragedy and rebuild their lives.
10. Direct Relief
Direct Relief is a non-profit organization that assists people in need during times of crisis. All medical personnel and supplies needed were sent to the affected areas. The Turkish government ensures that all victims receive the help they need by providing earthquake relief to those who have lost their homes and livelihoods due to the earthquakes. Health facilities can't operate and need an electrician due to lack of power, affecting those dependent on medical devices like ventilators.
11. Doctors Without Borders
In the wake of the devastating earthquake that struck Turkey in 2023, Doctors Without Borders (DWB) was one of the first organizations to provide aid and assistance to the affected population. DWB set up a field hospital in Ankara, providing medical care to hundreds of people injured in the quake. Thanks to the efforts of DWB and other humanitarian organizations, the death toll from the earthquake was relatively low. However, the damage to infrastructure and property was extensive, and many people were left homeless and without necessities. The Turkish government has pledged to assist those affected by the earthquake, and DWB will continue to play a vital role in the earthquake relief and recovery effort.
12. Care
CARE is helping earthquake victims in Turkey by providing relief supplies and support to help them recover and rebuild. We are working with local partners to provide earthquake relief, like food, water, shelter, and longer-term support to help people rebuild their homes and livelihoods. Their goal is to help people affected by the earthquake recover and rebuild their lives, preventing further loss of life and damage to property.
13. International Rescue Committee
The International Rescue Committee (IRC) is helping earthquake victims in Turkey by providing them with essential earthquake relief and assistance. The IRC is working with the Turkish government and other partners to provide earthquake relief to those affected. This organization provides food, water, shelter, and medical care to those who need it most. They are also working to help people rebuild their homes and livelihoods. If you are a new home builder, you can work with the committee to ensure victims get decent shelter. The IRC is committed to helping the people of Turkey recover from this disaster, and we will continue to assist as long as needed.
14. Turkish Red Crescent
Having more than 240 staff and hundreds of volunteers on the field, the Turkish Red Crescent is working tirelessly to help those affected by the earthquake. The organization is also working to clean up debris and waste removal from the affected areas so that people start to rebuild their lives. The Red Crescent is also providing psychological support to those who have been affected by the disaster. Emotional and mental support, mostly for people with displaced family members, those who've lost loved ones in the attack, as well as those who suffered physically, goes a long way in the healing process.
Play a Part and Stand With the Victims
Turkey and Syria have experienced one of the worst earthquake crises in their history. Over 1,000 people lost their lives, and tens of thousands have been homeless. The Turkish government is struggling to provide adequate earthquake relief and assistance to all victims, and they need all the help they can get.
All help will come in handy, whether supporting clear-out debris services from affected areas or a window replacement company for restoring damaged homes. Additionally, you could use your skills as a collision specialist or a residential cleaning business to help those struggling with recovery after the earthquake. Doing so, you will contribute towards rebuilding these communities and helping them get back on their feet.
You can also donate blood or supplies. If you live in Turkey or happen to be in the country when the earthquake strikes, you can donate blood or supplies to a local hospital or Red Cross center. No matter how big or small, every bit of help makes a difference to the people of Turkey who are dealing with this disaster.
Finally, you can spread the word about the crisis and encourage others to help out however they can. Sharing information about the earthquake and the needs of the victims can help raise awareness and generate additional support through earthquake relief.