1st Tiny Home Village Built by Homeless Youth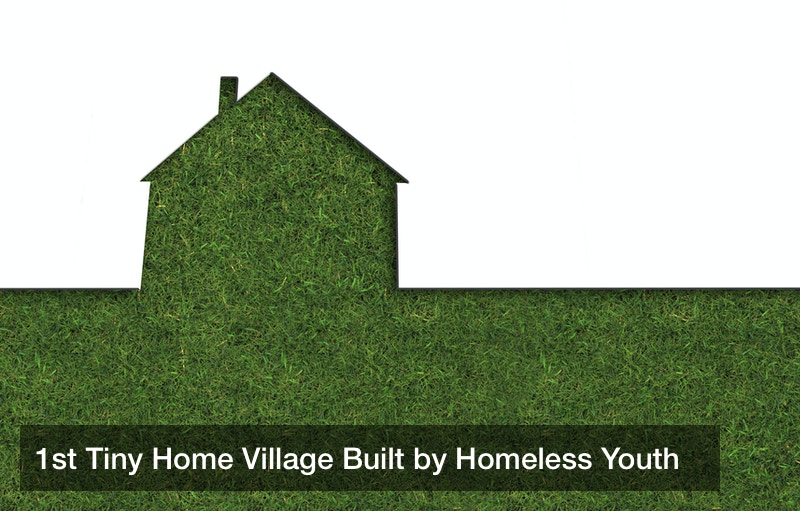 Searching for apartments for rent has been among the most popular way to achieve affordable housing. After all, renting a property comes with a slew of benefits to a person who wants the freedom associated with a lack of a mortgage. But a new trend has been growing among homeowners over the past few years: the tiny home.
Tiny homes are described as an architectural and social movement designed to limit materialism and make the most of a small space. In some cases, people move their tiny homes all over the country by hitching it to the back of their car. They rely on a local home builder to craft a functional home in a minimal amount of space. These homes are typically around 100 and 400 square feet compared to the average home that weighs in around 2,600 square feet or so. For people who want to shirk the traditional lifestyle of a white picket fence, this is a great alternative.
But tiny houses have also become a great option for the homeless population. There are more than 28,200 people occupying shantytowns in the Bay Area alone; supplying the necessary housing for at-risk populations has always been a challenge. Though building tiny homes is still expensive to make and often require the help of a local builder, metal fabricator, and more, a group of homeless youth are making a big difference in California.
How did the tiny village form?
Scheduled to open in January of 2021, the world's first tiny home village was created by a group of homeless youth for homeless youth.
Youth Spirit Artworks (YSA) in Oakland, CA is an arts therapy organization that offers homeless support services for the youth in the Berkeley, California area. Having formed in 2007, it has become a safe place for people facing housing insecurity in Berkeley and the surrounding areas, especially those who are turned away by homeless shelters. They also offer art therapy and stipends for budding artists who work through their trauma with the help of creative methods. For young people experiencing homelessness, however, offering a place to stay can make the difference between a life on the streets and graduating from high school.
The network gathered a multitude of congregations in the Bay Area (more than 32 in total) to transform an old parking lot into a small community. Muslim groups, Catholic charities, and Jewish congregations gathered more than 1,700 volunteers to gather donations and clean up the space. Once dotted with garbage and other common urban debris, the young volunteers worked hard to clean and brighten the space with vibrant colors, beautiful greenspaces, and a number of tiny houses.
But this project didn't come out of nowhere. The YSA has been planning to transform the abandoned gas station lot for more than four years now, according to The Times of Israel. Thanks to this hard work, the organization and supporting congregations were able to raise more than $1.2 million.
It's estimated that 20% of Americans experiencing housing instability are under the age of 25, putting them in the "youth" category. These volunteers quickly decided that a tiny home village was among the best ways to provide safe housing for people at risk of homelessness. Each tiny home offers a level of privacy, autonomy, and community, since the tiny houses are located in close proximity to each other.
Luxury tiny homes require ample assistance from building professionals. Many might even be bigger than the maximum 400 square feet, complete with garage door screens for patios or sunrooms. The tiny homes built by the YSA and its volunteers are not quite so luxurious, but they do more than enough to provide a safe, comfortable place for people facing down life on the street.
With a little training, many of the youth were ready to dive into the project. They got started by modeling tiny homes in 3D via Sketchup before bringing the project to life at the YSA. According to the YSA, volunteers were eager to help create an attractive space and flex their artistic talent. Of course, they needed assistance for more serious endeavors, like home electrical services, but the majority of the buildings were constructed by the group. By building them on trailers, many congregations from all over the area were able to construct the homes and then bring them to the village later. This helped them avoid a large construction area that would be much bigger than the lot provided.
One of the best parts of the village is the fence that encloses the lot. The youth were able to save $75,000 on the project by crafting the fences on their own. On each wooden plank are written/painted prayers, well wishes, and other blessings to support the village.
For now, the tiny homes will be connected to the city's power grid thanks to a 3-year free lease provided by the city of Oakland. In the future, the YSA members hope that each tiny home will rely on solar power roofs.
"It's only 22 homes for youth in this tiny house village, but for each individual person who's going to live in one of them, it will mean the world," explains Rabbi Rebekah Stern in an interview, a volunteer with YSA. "There's the saying, when you save a life, you save the world. Did we solve youth homelessness? No. But did we make a significant impact for the people who are going to get to live in these homes? Unquestionably so."
Homeless support services
This is just one example of charitable work in action, but there are countless homeless support services to support. The primary way the world will defeat homelessness is by providing basic housing to all, whether that means building tiny home villages or funding shelters to better meet the needs of their residents.
"The best way to stop a problem or crisis is to stop it at its roots," claims Reginald Gentry, a volunteer at YSA. "This [Tiny House Village] is a model, this is not a cure-all project. Housing 26 youth is nothing compared to housing so many others. But we're not just trying to make history in the United States, we actually see that tiny houses and tiny house villages can be a viable solution — or a viable weapon — against the homelessness crisis."
Some organizations, however, are trying to help those without access to homes or shelters. Homeless support services like Backpack Bed are donating lightweight, insulated sleeping bags that roll into a backpack for homeless people. Their website claims that almost 200,000 Americans will be sleeping outside on any given night. Donating to organizations like these can help get supplies to the people that need them the most.
Voting in local elections for candidates that support ending homelessness is another important thing to do. Grassroots organizations like YSA work hard to make a difference at an individual level. But community and widespread change needs to happen at a larger level. More often than not, people don't notice social issues unless it's happening to them directly. Voting for people who can actually make a change at a government level is among the best ways to end homelessness in your area.
You can also spread awareness among homeless people by posting flyers when community health resources become available. Many larger towns engage in regular needle exchange programs and other community efforts to help at-risk populations, including the homeless (though it's worth noting that not all homeless people are addicts). Talk to your local urgent care centers to see if they have any free flu shot events or similar plans to help your community and pass along the message.
Homelessness isn't going to go away any time soon, but the efforts of people like the YSA are certainly making a difference.
What you should know about building your own tiny home
Reading this, you might be interested in doing more research on tiny home living. If you've fallen in love with the idea of owning a tiny home, you should do a lot of investigating before you build your own. Living in a tiny home isn't for everyone, especially if you're trying to sell your house fast. They can take a while to build and you're better off staying in your current home or renting an apartment until it's finished. After all, there are a lot of components that go into building a tiny house, especially if you live in a colder area than Southern California.
Now that winter has finally arrived, many people are trying to pad their homes against the bitter cold. For owners of tiny homes, however, this might look a little different. Investing in generator installation designed for smaller homes is just one step in the process. If you're the owner of a tiny home, or trying to better support those living in tiny homes through homeless support services, here are some ways you can make a difference this winter:
Bolster your insulation and investing in HVAC services that are designed for tiny homes. Rely on a custom HVAC service provider for the best advice. After all, you need to rely on a professional for the right installation since they need a degree!
If your house is still too cold, don't be afraid to buy safe electric heaters to help stay warm.
Make sure you're getting your water from a reliable, clean source. You might want to check your tiny house's plumbing since pipes are prone to freezing and bursting when temperatures drop below zero.
Skirt your tiny house to prevent drafts from sneaking in through the door or your floorboards. Since tiny homes don't have a basement or foundation to block against the cold, this kind of change is essential.
But watch out for pests. Since skirting makes the underside of your tiny house warmer, you might have to watch out for cats, possums, and racoons that want to stay warmer in the winter.
Living in a tiny home isn't all its cracked up to be, but it can be a great way to avoid minimalism and shirk societal expectations for the average person. For the homeless population in California, however, these houses might mean the start of a new future.
For more information on homeless support services, you can reach out to your city council. They will provide you with resources and information on the homeless support services your town/city offers, along with any organizations you can join. Now that the holidays are upon us, there's no better opportunity to invest in homeless support services than right now.