Chinese Authorities Fine Procter & Gamble for False Advertising on Crest Brand Toothpaste Commercial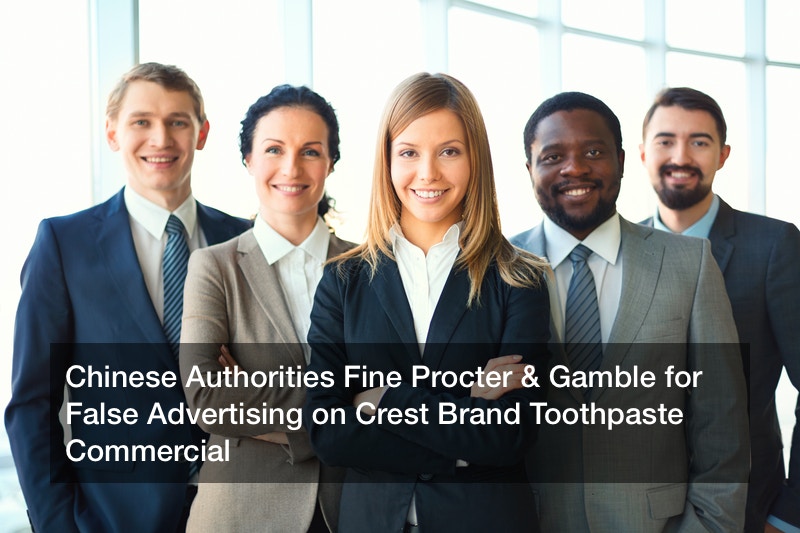 UPDATED 11/4/20
After running a TV advertisement in China discussing the whitening effects of Crest brand toothpaste, Procter and Gamble (PandG) is facing a fine of nearly $1 million (USD) from the country's health regulators who claim that the advertisement is a case of false advertising.
According to the New York Times, the Shanghai Administration for Industry and Commerce has accused the American company of "[overplaying] the effects of some of its toothpaste and [using] digital software to 'touch up' images used in advertising to make teeth look whiter."
The International Business Times explains that the TV ad, which featured a popular Taiwanese talk show host, promised that the toothpaste would provide "one-day whitening;" it became clear after the advertisement had begun airing that Crest had digitally altered the color of the celebrity's teeth — and Chinese authorities were not pleased.
The Times also states that the fine — which could be about $977,000 (6.03 Chinese renminbi) — is the largest recorded fine held against a company for false advertising.
Crest has reportedly stated, via its official Twitter account, that it pulled the ad from TV spots sometime around mid-2014 and that the fine was issued over a year ago.
Although Crest has emphasized that all of its products were "in compliance with the country's law before entering the market," the International Business Times has noted that Chinese authorities have begun to "[step] up scrutiny of both foreign and domestic companies that are misleading consumers."
In the case of "one-day whitening" resulting from a toothpaste, the claim certainly is dubious at best; most consumers are already aware that few over-the-counter dental products can provide the same treatments that one would find in a professional dental clinic. But considering the rate at which oral hygiene products and cleaning technologies have developed over the past few years, it wouldn't be surprising if consumers honestly believed that a toothpaste could have a noticeable whitening effect — especially if those consumers hadn't done any research about the product before buying it.
Although this case against PandG could signal a major turning point in the Chinese advertising and marketing industry — should PandG agree to pay the fine — it still appears, one year after the fine has been issued, that the company still hasn't decided whether to comply or contest the false advertising allegations.
Although the ads are for a product that promotes dental care, the claims made by Proctor and Gamble were egregious enough to warrant penalties from the Chinese government. Whitening toothpaste, like any other kind of health related product, needs to be held to a high standard in advertising. If unrealistic claims are made, people who could use real health solutions could out off a trip to their dentist, or other health services they may need. Although this is currently just a one off case in China, advertising agencies the world over are carefully watching the result of this case.
Like this: 1 off crest toothpaste coupon, 3d white commercial, best deal on crest white strips, crest 3d white strips sale, crest discount code, crest professional white strips coupon, crest shipping, crest teeth whitening coupon, crest toothpaste advertisement, crest toothpaste customer service, crest toothpaste number, crest white strips manufacturer coupon, crest whitening strips coupons printable, free teeth whitening strips, teeth whitening strips sale, 3d tv advertisement, 3d white toothpaste coupon, colgate commercial 2017 actress name, colgate smiles coupons, cool crest commercial, coupon code for crest white strips.