Thunderstorm Nearly Ruins Boy Scout Camping Trip, but Parents Come to the Rescue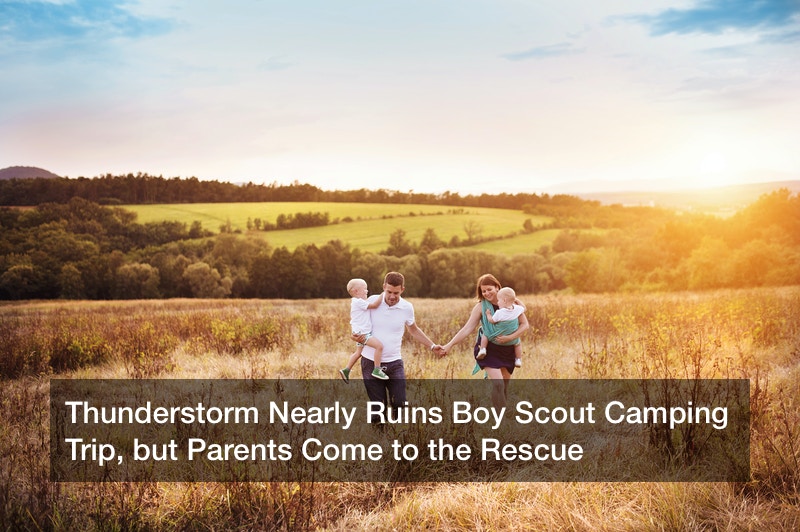 UPDATED 10/8/20
Ann Stafford watched the weather radar diligently on the night of Sunday, July 12, and she could see a storm covering the map over Wisconsin.
But the Duluth, MN, mom wasn't concerned about herself. Her son Michael was away with her husband, Paul, on a Boy Scouts camping trip — the annual one for Troop 9 at the Tomahawk Scout Reservation Camp in northern Wisconsin.
Although the camp had a storm shelter, the tents the Scouts had set up were completely soaked. Tarps that campers had placed on the floor of the tents to stop moisture from breaking through were also ruined by the sudden downpour, which lasted from about 11 p.m. to 1 a.m..
So Stafford and other parents banded together with dry supplies for their young campers and chaperones, sending new sleeping bags, tents, and other essentials for the trip through the Glen Avon Church. Those supplies were then dropped off on Monday.
Parents also brought down treats in plastic containers and camping coolers for the scouts to enjoy. Thankfully, although a bit sleepy, the campers were still alert due to the late-night excitement.
"It's always a good idea to bring spare high energy food and snacks that will not perish easily, as most coolers with fresh food only last a few days," says Paul Kabalin, President, Engel Coolers. "Energy bars, dried fruit, nuts and other individually packaged foods can be a life saver during a natural disaster."
Due to the national parks and other scenic campgrounds found throughout United States, camping has remained a national pastime for many years. In 2012, 38 million Americans total took camping trips, and that number increases every year.
However, some Boy Scout troops are noticing that there are fewer and fewer members interested in camping each year, especially in Wisconsin. That lack of interest is shutting down the LeFeber Northwoods Camps and the Robert S. Lyle Scout Reservation.
Five years ago, around 1,200 Boy Scout campers visited the two north Wisconsin camps for their annual trips. Now, however, the Milwaukee area Boy Scouts have chosen to close them because they see half the amount of campers that they used to.
Part of the issue, however, stems from the facilities themselves — there are no dining halls. In order to improve the camp, it would cost $310,750 just for maintenance and $6.6 million to upgrade it to a premier facility.
The camps will close at the end of July. The Tomahawk Scout Reservation Camp, however, remains open.
Try to Avoid Camping in A Thunderstorm
If you have a camping trip planned, find your local accuweather storm center and check the 10 day tropical storm forecast as the date approaches. Also, search for a North America storm warning. Tropical storms are not the only storms that could dampen a camping trip. All kinds of storms could occur. If your camping location is in the eastern part of the United States, you need to answer the question, "Are there any storms near Florida?" Some tropical storms travel very quickly up the coastline. In the north, or the mountains, are there any snow storms coming up? Even if the answer is "No," take precautions and pack as if the answer is "yes." Immediately before embarking on your trip, contact the campsite or check news outlets near your camping destination to determine if there was any damage from storm today. Recent damage may have ruined the campgrounds, or fallen trees or wires may block routes. You may have checked and re-checked the weather forecast, but you still find yourself camping in thunderstorm or snow storm. If you cannot avoid camping in thunderstorm conditions, pack extra waterproof clothing, sleeping bags, and provisions in the event your camp out lasts longer than expected.andnbsp;
More Topics: boy scout summer camps in wisconsin, camp tomahawk 2017, national outdoor challenge unit award, north star council, northern scouts, northern star council popcorn, phillippo scout reservation cannon falls mn, rum river scout camp map, scout camp wisconsin, scout com maryland, tomahawk district bsa, tomahawk scout camp merit badges, camp tomahawk livingston texas, camp tomahawk snow base, cub scout camp maryland, northstar council bsa, outpost campground tomahawk wi, stearns camp, camp chippewa packing list, many waters district pinewood derby, tomahawk boy scout camp.