Tips for Moving Your Family As a Single Parent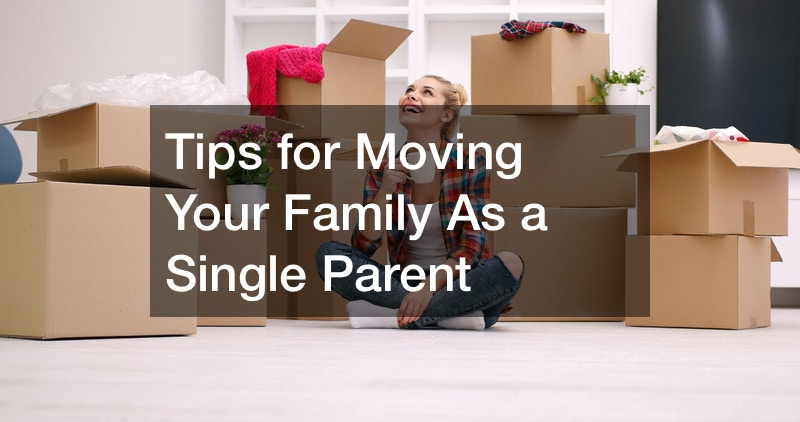 Divorcing after a long and painful marriage is a bold choice, one that can provide you with a new life and a better chance of being happy. Moving with your children after a divorce can be very hard, especially if you're going to be alone for a while and aren't sure what steps you need to take here.
As a result, it is essential to pay attention to the steps below to ensure that you get the most possible benefits out of this process. By working with high-quality professionals and taking the proper steps for your needs, it is possible to avoid serious issues that may worsen your moving experience.
Talk to a Divorce Specialist
Even if you're divorced or well on your way to finalizing your paperwork, it is critical to make sure that you talk to your attorney before you move. A failure to do so could cause you some legal complications that may end up putting you back into court and potentially cost you some child rights.
First of all, it is essential to talk to your divorce attorney before you move to ensure that you don't make any mistakes. For example, you likely have a limited range of movement where you can go due to your divorce and need your attorney to ensure that you don't overextend your boundaries.
Critically, it is also essential to make sure that your divorce is legally binding before you move because your ex may try to use your move against you. Some may claim abandonment if you move out during the divorce procedure, a tactic that rarely works but which may be problematic in some cases.
Most of the time, though, talking to your divorce specialist is more a formality than anything. They can let you know for sure that you are safe and prevent you from experiencing any legal issues. That peace of mind is something that you deserve to have before you move to a new area or home with your kids.
Pay Attention to Your Children
Any divorce and move are going to be done not just for you but for your children as well. Therefore, it is essential to make sure that you talk to them before you move. It would help if you also prepared for various demands that may put on them by the move, issues that may be unexpected without proper preparation.
For instance, you're going to have to set up doctor appointments for your children that take care of their needs. These appointments will ensure that they are appropriately vaccinated and healthy when they move and end up in a new school. A good primary care physician is always a necessity in this situation.
However, you also need to pay attention to what your children say during what can be a challenging process. Some may have very intelligent input into your divorce or your needs and can provide you with a little bit of surprising help that will ensure that you don't run into worsened issues as a result.
Just as importantly, you need to make sure that your children's needs and concerns are adequately addressed before the move. Talk to them about what is happening, why you are moving, why it is a good choice, and try to soothe their concern. This step may be a long-term and ongoing one, so be prepared.
If you run into problems with a child who is struggling with the move, it is important to make sure that you get counseling help for the whole family that may help to prevent this problem from worsening any further.
Don't Ignore Your Needs
Though it is vital to take your children's needs into account when moving to a new area, you also need to make sure you don't ignore yourself. Too many single parents end up neglecting their needs and struggle, causing health problems and other issues that may worsen their life.
For instance, you may need to talk to a doctor for yourself to see what kind of help you may require. Many people getting out of a burdensome marriage may end up needing emotional support to avoid long-term health issues. Counseling is an excellent option if you find yourself struggling in this frustrating way.
And if you find that you're suffering from addiction problems, a drug or alcohol rehab may be an excellent first step for your needs. These centers include inpatient and outpatient care that will help to walk you back from the brink of addiction and avoid serious lifelong complications from your drug abuse.
Critically, it is also essential to make sure that you have some job before moving to a new area or some source of income. Child support and family support can help you out here. However, getting a job provides you with a more long-term solution to your potential financial struggles as a person.
Look for a School for Your Kids
If you already know where you're planning on moving, you need to pay attention to the schools near your children. It is crucial to find one that suits their needs and which provides the highest level of education. There's a good chance many different options may be available to you here.
A good school is near your children and is rated highly online. Try to find one that is known for high-quality education and the kinds of programs your children enjoy. For instance, if your daughter loves the debate club, try to find a school that provides this option for her needs.
Just as importantly, you need to pay attention to potential charter or even private schools in your area to provide you with an excellent educational experience. These smaller schools are often more focused on success and may be easier for some children to adapt to with minimal troubles.
Lastly, you may want to pay attention to the sports at the school and other elements that may affect your child's education. If you have a child who could do well in sports at a higher level, don't neglect their needs and try to find an excellent sports-oriented experience.
In the same way, you should pay attention to any academics-oriented children in your family, adjusting your school plan to meet their needs. These kids may be planning on going to college and may need a school that helps to prepare them for the unique demands higher education may place on them.
Take Early Move-In Steps
Before you move into your home, it is vital to take a handful of steps that make it a safer and more comfortable place to live. These early steps are designed to make sure that you don't run into any legal or health issues and will keep your family and yourself safe from any complications at the same time.
Try to contact local surveying services, first of all, to get an idea of how accurate your land reading is to what you purchased. This situation is surprisingly common – people buy a home and find that the last surveyor did a poor job and may not own the property they thought.
Just as importantly, you may want to reach out to shingle roofing services who can provide this type of help to ensure that you don't end up struggling. For example, these professionals can inspect a roof and pay attention to the damage that may have been caused to it over the years.
You may also want to contact an inspection company that can look through your home and spots any potential problems that may impact your move. For example, you need to get rid of black mold and other dangers to ensure that you and your children are safe from serious health dangers.
Contact a Moving Company
When it comes time to move your home, you're going to want to talk to a high-quality moving company who can help you out. While it will save you money to move everything yourself, you may end up getting worn out or struggle to handle this job without the help of experts who understand your needs.
Working with local moving companies is a great idea because these professionals can provide the high-quality help needed. They will understand the layout of a town and offer reasonable costs to local people to the area. These benefits make local movers a great option.
Make sure that you talk to your movers about all of the items you own to give them an idea of what they will be handling. Everything should be carefully prepared and labeled, as well, and your movers given a layout of the new house to make it easier to place items where they should go.
On the day of the move, try to stay out of their way and answer questions only if they ask. Avoid giving them too many demands or telling them where to put things unless they aren't particular. And keep your kids at your parents at a friend's house to avoid any complications that they may unexpectedly cause.
Set Up Your Utilities
No home is complete without utilities, and you need to take the time to set them up in your name in a way that makes sense for you. You're going to need to set them up separate from your ex-spouse and take other steps to ensure that they are not included on your bill in any way, minimizing any credit issues.
Start by making sure that you have all of the utility hookups necessary for your home. This step will require reaching out to all of the companies in your area and ensuring they know you are moving into your home. Once they do, you can start setting up your utilities with relative ease.
If you have any financial troubles from your marriage or divorce, you may need to prepare to pay a down payment or advance on activating your utilities. This step may not seem fair but is usually pretty standard for those with bad credit. If your credit improves, you may get this payment back, too.
Don't neglect any other utilities that you know you and your family will want, such as cable, internet, streaming services, and anything else you want and can afford. Make sure you don't fall into the trap of overextending here. You may wish to consider one or two different options to avoid a problem.
Upgrade Your New Home
Once you've got your house set up, your utilities in your name, and are ready to move into the home, it is vital to check for any issues that may develop throughout its structure. Taking care of these problems and upgrading your house will ensure that you don't run into long-term complications.
For instance, it is a good idea to call roofers to ensure that your home is safe from various types of damage. A good roofer can provide new roof installation and the help you need to keep your home from suffering from a variety of different damage types, such as collapse. However, there are other steps to take too.
You'll need to contact plumbing services to repair any damage to your plumbing and provide other steps to keep it safe. Some homes may even need upgrades to sinks, bathtubs, pipes, and other areas that may end up wearing away over time and causing a broad array of different damage troubles.
And if you're moving to an area with a high risk of weather-related damage, it may be wise to get home generator installation. Taking these steps will ensure that you end up managing this problem with relative ease and will keep your house and your children safe for years to come at the same time.
Just as importantly, don't neglect any upgrade steps that you want to take to make your home more to your style. Remember: this is your home, and you can control how it looks. Doing so will often give many people the best chance of moving forward and prevent long-term issues with their divorce.
Don't Neglect Expert Help
As you can see, you can reach out to many professionals if you need help in any way. These experts will do what they can to help you by providing the kind of long-term support required and will give your children the best chance of staying focused when you move as well. These experts can also help you find the right life insurance for your situation. Whether it be Geico or Transamerica life insurance plans.
Remember – your health and well-being should not come second to you during this move. By taking these steps, you give yourself and your children the best chance of adapting to what can be a very troubling situation. And these benefits are critical for those struggling in any way.