What Are The Best Virtual Training Practices In A Remote Learning Environment?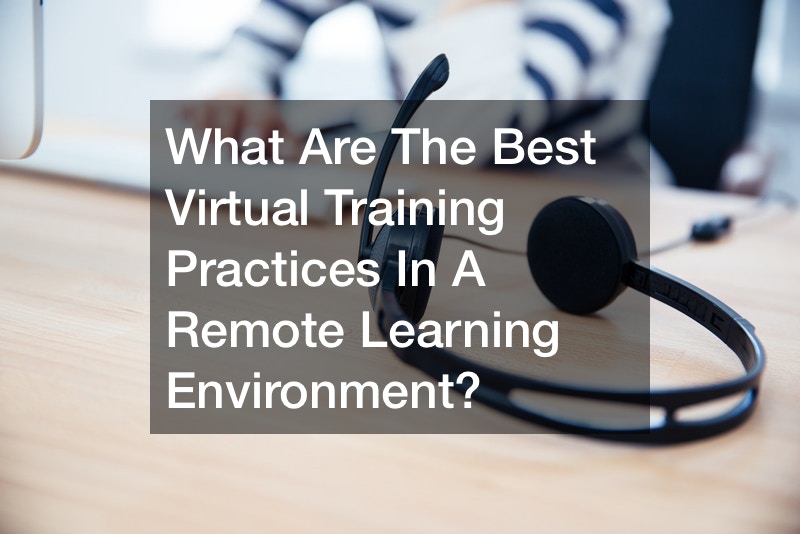 We all have come through an incredibly trying year during the COVID-19 pandemic. We all had to find new ways of doing all the things we previously handled in person. One of the most dramatic changes that came out of the pandemic is remote interactions. These interactions include video calls to family, meetings, and virtual training. With all online interactions, there are better ways to address remote learning and virtual training. Some practices you should include are listed below.
Create Outstanding Content
No matter how you are providing training, the content and delivery of the training make a difference. The presence of your trainer matters and will impact how effective the training is. It is essential for the trainer to have a complete understanding of the material they are going to present. It is more difficult to keep participants engaged online, as there may be many distractions at home. If the trainer is not prepared and does not have a thorough knowledge of the material, the trainer will lose the trainees' attention. The training must be intended and structured for an online environment. Trainers must ensure that any materials must be altered to work in an online environment. The trainer must remain organized to find everything they need. The trainees can only see a small window, and the trainer must work to stay in the frame.
Ensure Interactive Engagement
It is important for virtual trainers to keep in mind that a remote learning environment requires a different type of training or teaching style to be utilized. The typical style used in a classroom is not going to work as well virtually. A trainer will have to be interactive with the trainees and encourage their participation. Engagement will include the training asking questions and encouraging answers, and sharing ideas. Trainers should work to expand answers to entice discussion between the learners. The role of the trainer in this environment is to guide the participants through the learning.
The trainer can create virtual breakout rooms for discussion among small groups. There should be elements incorporated into the training that is interactive. They should be included every few minutes to ensure the learners do not get bored or distracted. Trainers can use whiteboards, chat, and ensure there is proper connectivity to the cloud.
Create a Detailed Outline
The trainer's organization is going to be critical for virtual learning. Trainers should create a course outline for the class and prepare in advance of the training. The learners should be given an overview. The overview should include the flow of the course. The trainer should take the time to remind the trainees of where the course is in reference to the course overview. Trainers can pre-record their training course and have learners watch it on their own time. Pre-recording sessions allow the trainers to use class time to discuss the lecture and facilitate a deep discussion about the content.
Utilize a Robust Platform
When you are trying to support virtual learning, you need a modern platform that can handle the needs of that environment. It would be best if you had a robust infrastructure that supports a whiteboard, breakout rooms, screen sharing, hand raising, and other learning methods. In an online world, there are many tools at your disposal to help you create a better place to learn, but you need to be able to support them. You should consider VOIP services to enhance the delivery of your communication. One of the great things about virtual online learning is all the tools available to the trainer and the trainees. The tools go a long way to bridge the gap created by not being in person.
Prepare for Technical Problems
You know how it is when it comes to computer equipment, internet services, and presentations; something is bound to go wrong. Even if your first lesson runs smoothly, there is bound to be something that does not go well during the course. Some days, your internet is going to have glitches or even disconnect for a time. It is possible that your trainees could have some problems, also. You need to be able to correct your own problems and help your trainees with theirs. Your platform might crash and reboot itself. Just about everyone has been in the middle of a FaceTime, Google Meet, or Teams meeting when the application just shut down. There are some things you cannot prevent, and there are others that you can exercise human error prevention tools to mitigate.
Some ways you can help yourself are to back up everything you have. You also want to have a backup plan to allow you to continue no matter what happens. You need to plan for everything possible thing that can go wrong, from someone knocking at your door, the trash truck making noise outside, or your internet crashing. When you have a plan for handling these things, it may not stop them from happening, but at least you can keep moving forward through it. You will not be caught off guard without knowing how to handle the situation. Suggest that your learners dial in even if they are connected through the internet. Dialing in helps ease those moments of bad connections. They can still hear you, and you can hear them. You want to record your sessions and make them available to learners in case they miss anything due to system problems.
Have the Right Equipment
No matter what type of budget you have, focus on quality equipment. If you try to save money upfront by purchasing cheaper equipment, you will pay the price in the long run with downtime and frustration. Ultimately, you will buy the more expensive equipment. The type of equipment you use could make the difference between excellent training and marginal training. The good news is equipment options are becoming more affordable. You could consider a small business loan if you cannot afford the equipment. If you are women owned small businesses, you may be able to find a grant to help pay for your equipment. If a loan does not appeal to you, you can create a list of all the equipment you need. Once you have the list, determine what is most important and buy as many of the priority items as you can. Create a timeline for when you can buy the rest of the equipment.
When thinking about equipment, you want to consider items such as webcams, headsets, laptops, lightboxes, and peripherals. You want to make sure that you have a quality headset or microphone. There is nothing worse than presenting a training that no one can hear. You might want to consider having more than one camera, especially if it is helpful for the trainees to see you or the material from different angles.
Start With Activities
No matter the training you are giving, from employee onboarding to a paid training course, consider activities before the session begins. Pre-activities can help engage your learners and prepare them for what they are going to learn in training. You can use a video but keep in short, using an electronic learning platform. You could send out information electronically that you would like them to review before starting the training. Before you jump right into your first session, you can assess the comfort of your learners to help guide you through the training. Keep in mind not everyone will be willing to tell you what they did not understand publicly, so you may want to set up ways to interact with learners that do not put them in an uncomfortable position. Constantly ask for feedback from your trainees. Asking for feedback keeps them engaged and helps you understand how effective your training is.
Prioritize the Actual Material
When using video to present training, the material is important. It is easy to lose your learners quickly in an online environment. There are steps you can take to reduce the number of people you lose. It would help if you outlined all the rules for the training, including the expectations you have of the learners and the expectations they should have for you as the trainer. It is important that the learners have a clear-cut layout of the session(s). A straightforward structure helps them understand where they are in the process of the course and the sequence of events. You want simple sentences that are clear. You want to include items such as the requirement for the participants' cameras to be on. It is important to review the housekeeping about the training sessions. You need to discuss the use of mute, chat, break out rooms, etc.
You want to be careful with the amount of animation you have in your slides. They may cause your presentation to slow down or cause it to have glitches. When you use slides, you want to make sure you keep your information to a minimum on each one. Too much information on a slide is overwhelming, and the learners have a difficult time obtaining all the information. Break the information into small chunks. You want to apply the methods of teaching the material, then have the participants use the material. Once they have applied, please encourage them to practice and review the material before moving on to the next section. It is critical to ensure the participants have a clear understanding of the material before moving on to the next section. You may want to provide review sessions after a large amount of material has been shared to ensure there is not a loss of information.
Practice, Practice, Practice
It is imperative that you practice before starting your first training, especially if something is new to you. If the material is new, you must practice becoming familiar with it. If the online platform is new to you, you want to practice so that you can become comfortable in front of the camera. As mentioned above, many technical aspects can go wrong, and you must prepare yourself and be ready for anything that can happen. This helps to increase your comfort and makes for an all-around better training experience for you and the learners. You want to use a timer when you practice. It would help if you tried to keep your sessions to about 30 minutes with a break in the middle. If it is an all-day training, incorporate breaks into the training course. You want to keep the material and your learners fresh. Many people cannot sit in front of a screen that long without moving around.
You want to keep your camera on as much as possible. If you have material to share, break it up by allowing the learners to see you. Maintaining eye contact helps build a relationship with them and keeps them engaged. One of the downsides to a virtual environment is the inability to present documents and remain on camera at the same time. Some people probably prefer not to have their face on camera, but as a trainer, it is important. When you are in your sessions, try to refrain from lecturing. Lecturing is a surefire way to see your learners stare off into space.
Keep it Professional
When working in a virtual training environment, you are most likely at home or in an office by yourself. You want to make sure that no matter where you are, your setup is clean and professional. Before you even begin your training session, please turn on your camera(s) and determine what can be seen in them. You want to clean up that area. If you are at home, you most likely want to either be in an empty room or get a screen if an empty room is impossible. If you are in executive offices, you have an advantage because your space already looks professional. Most likely, you have an office cleaning service that cleans your area. A clean office can help make your training sessions smoother. When you are on camera, people are more likely to pay attention to the clothes you are wearing and everything visible on your screen. If you want to instill confidence in your learners, you must remain professional onscreen. You may want to consider office seating or a background that mixes with your particular training.
When it comes to virtual training sessions, keep these tips in mind. It's important to keep your trainees engaged, provide excellent content, understand how to fix technical problems, and remain professional.