US Home Experts Report Increased Demand for Walk-In Showers, High-End Bathroom Features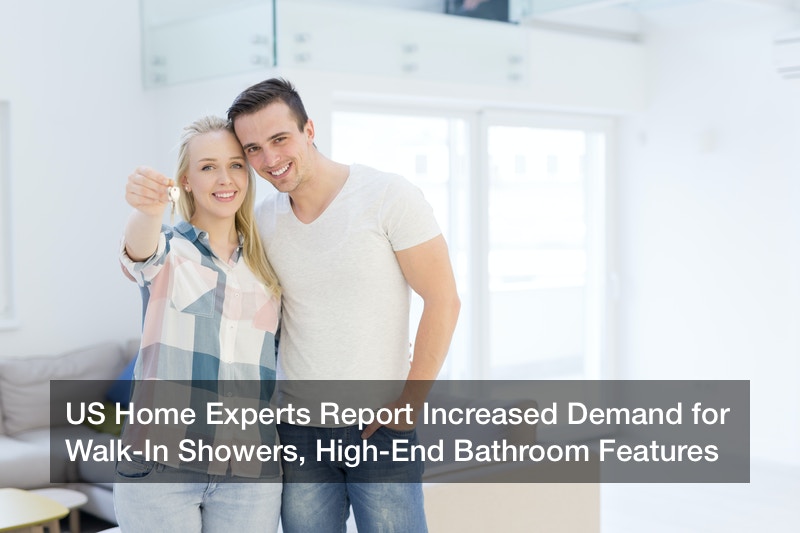 UPDATED 11/23/20
What happens when you are buying a new home and the shower is less than desirable? Modern homeowners have discerning tastes, and, even though it may be one of the smaller rooms in the home, the bathroom is now held to a higher standard than was acceptable in the past. What seems to be a disadvantage when viewing an older home can often become an opportunity. Often, a discount can be negotiated with the seller if the shower and bathroom are not up to par. The money that the buyer saves on the purchase can then cover the cost of a new shower unit. The new homeowner can hire a contractor to perform a shower replacement, corner shower replacement, or complete shower remodel as needed. Having to change shower when moving into a home may, at first, seem inconvenient. However, new and better showers and bathtubs come on the market all the time. Being required to do renovations on an older home has a dual advantage. The first being that new custom bath facilities are installed in the taste of the new homeowner. The second advantage is the immediate positive impact that the remodel will have on the value of an older home.
Bathtubs are by no means going extinct in the U.S., but home experts say that more and more homeowners across the country are choosing toandnbsp;replace bathtubs in master suites with luxurious showers.
"Bathroom remodelers say one of the most popular requests they get from homeowners is to remove the old tub and shower in the master bath and replace them with one wild-and-crazy shower with all the latest spray-jets, bells and whistles," home remodeling veteran Rosie Romero wrote for TriValleyCentral.com Jan. 26.
These so-called executive showers bear little resemblance to the cramped compartments found in some older homes.
Benches, built-in niches and multiple shower heads are all common. Romero says she thinks handheld sprayers are built more solidly than they used to be, and are also used more often because they can ease sore, aching muscles and make cleaning easier. Some showers even include thermostats to ensure that the mix of water is always at the perfect temperature.
Tilework is often elaborate in these high-end showers. And to top off the look, frameless glass doors are popular — since there's no use hiding beautiful tilework behind frosted glass. Special films and treatments are available to keep the glass from spotting.
Romero does suggest leaving at least one bathtub in the home for resale purposes, however, since a lack of tubs can scare off anyone with young children. And paying attention to resale value can pay off, according to Zillow CEO Spencer Rascoff, who discussed the topic with CBS Jan. 28.
"If you want to earn a return on your remodeling, the data just says … you should remodel a bathroom," Rascoff said. "Everybody needs a bathroom."
More Custom Bathroom Features
Homeowners aren't stopping at remodeling showers, either.
Vanities have become more important, especially as homeowners have an increased demand for storage in bathrooms. Some custom cabinets are even built so that electric toothbrushes and razors can be charged inside, out of sight.
Counter heights are also rising in bathrooms, closer to the standard kitchen counter height of 34 or 36 inches. This adjustment is part of a general trend in enlarged living spaces and built-in features, but can be a particular advantage for taller people.
"If you have a 6-foot husband who uses the sink [in a 30-inch-high vanity] to wash his face and brush his teeth every day, that might be a concern," Realtor Jennifer Sturlaugson commented to theandnbsp;Deluth News Tribuneandnbsp;Jan. 24.
"I would have to agree that more people are putting inandnbsp;tile showers opposed to tubs, it is all personal preference," says Nancy Long of Tri-Star Cabinets. "Showers are becoming more prominent in the master baths."
Related Keywords: amazon gold shower head, amazon shower head and hose, big shower heads amazon, buy new shower head, cheap shower heads near me, cool shower heads amazon, custom rain shower heads, discount shower heads, fancy shower systems, high quality showers, horizontal shower head, luxury master bathroom shower, luxury shower fixtures, luxury showers images, really cool shower heads, rustic shower enclosures, shower head amazon prime, shower holder amazon, state of the art showers, unique shower stalls, unusual shower heads.