Woman Shoots Fleeing Burglar in Rear, Who Then Trips Over Electric Fence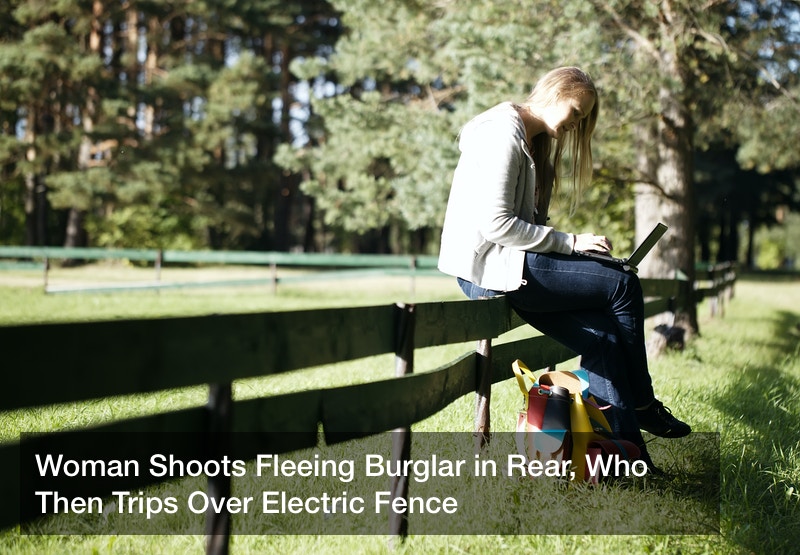 UPDATED 12/3/2020
An El Reno, Oklahoma woman shot a would-be-burglar in the rear, who then got tangled in the electric fence as they fled.
Late at night on September 18th, a burglar tried to kick Cathy Kouba's back door in. Naturally, this triggered the home security system's alarm, which consequently jolted Kouba awake. Realizing what was happening, Kouba grabbed her gun and burst out of her front door to waylay the burglar.
"[I cocked the shotgun], saw that the door had broke down," explains Kouba, "then I saw him hitting over the fence and head to the creek."
Although no longer in present danger, Kouba decided to unload her weapon on the fleeing would-be-criminal, and believes she hit her mark in the derriere.
While trying to escape, the burglar reportedly got tangled up in the electric fence.
In the end, the burglar did get away, but law enforcement found a trail of blood, which suggests that Kouba did indeed shoot the burglar.
In most states, shooting a fleeing criminal would be considered assault with a deadly weapon, but Kouba lives in Oklahoma, which has a "Stand Your Ground Law," the same type of law that protected George Zimmerman after he shot and killed the unarmed teen Trayvon Martin.
According to HLN, a CNN Worldwide network, "Stand Your Ground" laws permit people to use deadly force just as long as three criteria are met: the person isn't engaged in unlawful activity, the person is being attacked in a place he or she has a right to be, and the person reasonably believes his or her life is in danger as the result of an overt act or perceived threat committed by someone else.
Although the suspect was running away, it could be argued that Kouba was within her rights.
"[The police] didn't get him but, you know, I'm sure he's going to end up in the hospital somewhere," she said. "I mean, he's got buckshot in his butt, I'm sure he's going to."
Kouba's weapon was a gift from her son, and she said it was the best Mother's Day present she's ever received.
Burglars make it challenging for people to live in certain areas. However, this does not mean that such areas remain unoccupied. All you need is a fence installation service to have an electric fence installed around your compound. Before you decide, you should search the average cost to have a fence installed or the average cost to install fencing. If you get an estimation of such costs, you will easily decide whether you want a fence installed or not. However, burglars' loss might be incomparable with the cost of fence installation at home depot.
You only need to get your priorities right and have a fence installed instead of waiting to be mugged. You can search for the cost of 6 foot chain link fence installed. This information would help you decide the length that you prefer to fence. Here are some questions that most people tend to ask before having a fence installed around their compound. How much does it cost to have a fence built? How much is 100 feet of privacy fence? If you answer these questions, you will not have to worry about security issues in your home anymore. You only have to install a good quality fence.